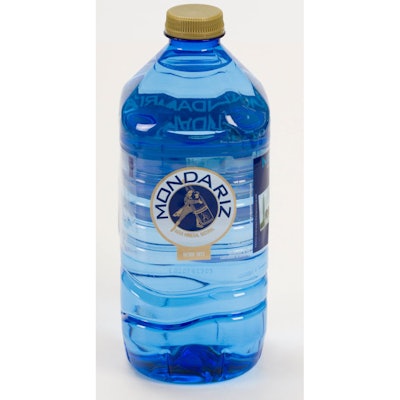 Since 1998, the Galician water bottler Aguas De Mondariz has taken steps to reduce raw materials in its bottles and closures. According to the Spain-based company, it was the first spring water bottler to convert from polyvinyl chloride bottles to PET, producing its own PET preforms. During the last 10 years, the company has reduced the weight of its bottle by 10%.
As a next step in light-weighting the package, Aguas De Mondariz has converted the bottle neck to a 29/25 size, achieving about 40% weight savings.
Last year, the company converted to the Bericap HexaLite® 29/11 closure for two of its filling lines. At the beginning of 2011, Bericap successfully converted the third filling line. The HexaLite 29/11 closure is equipped with a slit and a folded safety band (flexband) for efficient TE performance, providing a good anti-counterfeiting feature, while accommodating high-speed lines. The sealing system has been designed for maximum tightness.
The Aguas De Mondariz marketing team points out that the closure offers good performance for the consumer, justifying the investment in the technology. This solution is being described in the company's marketing campaigns, in magazines, and in newspapers.
The easy-opening functionality of the HexaLite is said to be a major improvement versus the previous closure and is being promoted on the shrink film as an on-pack promotion: "Now, a new and environmental friendly closure, easier to open."
Companies in this article