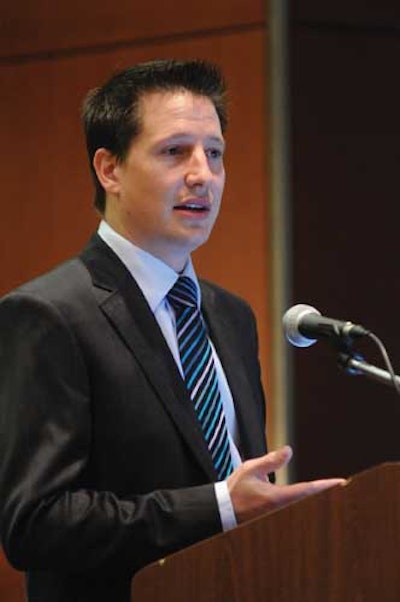 A unique new forum was born on the cusp of spring at the first annual Sustainable Packaging Symposium 2011: Advancing the Greener Supply Chain held in Chicago March 16-18. The result of a partnership between Greener Package and the Institute for Sustainability (IfS), a technological community of the American Institute for Chemical Engineers (AIChE), the event drew more than 220 attendees from many sectors of the packaging supply chain.
Through compelling presentations, including three keynotes, conducted by notable consumer packaged goods companies, academia, and industry associations, the sustainable packaging discourse homed in on very real future challenges related to resource scarcity and addressed tools and solutions for businesses to meet these threats through optimized packaging.
Setting the stage on day one, Marks & Spencer packaging buyer Andrew Speck provided a keynote that outlined a chilling forecast for the future. Citing the U.K.'s recent Foresight report, titled "Global Food and Farming Futures" (see http://bit.ly/dEgQKR), he said, "We are entering a time where our generations will be approaching the 'perfect storm.' This is about growing populations, falling energy sources, and food shortages coming together within the same time scales to create a perfect storm by 2030.
Speck reported that predictions show the global population rising to 9 billion by 2050—with most of the growth coming from Africa and Asia. The availability of water, which also affects farming, is also under threat, with scarcity in some areas already occurring.
"What does this have to do with packaging?" Speck asked attendees. "Simplistically, the challenge for the future for our business is how to feed more people from the same amount of land using half the amount of energy. The perfect storm must drive sustainable packaging solutions."
With this challenge articulated, SPS 2011 centered on solutions through sustainable packaging innovation. Said speaker Tony Kingsbury, executive-in-residence, Center for Responsible Business, UC Berkeley, and an executive for Dow Chemical, who reiterated Speck's predictions, "Innovation happens when resources are scarce."
Kingsbury, one of several speakers to energize audience members with his insightful comments on day one, provided predictions for the future related to packaging. Kingsbury's most cited prediction throughout the event was that "keeping the molecule in play will gain momentum."
"We can't continue to bury or litter our plastic molecules, not bury our steel or aluminum or paper," he warned. "Keep the molecules in play by recycling them, or at least if you don't recycle them, get the energy value out of them, instead of burying them where we are going to be criticized by our grandchildren for putting them in a big hole."
With another prediction, Kingsbury laid the groundwork for day two's discussion on the measurements, data, and analysis used for calculating sustainability, saying, "Life-cycle data will increasingly drive materials decision making because it helps us to understand the resources. It also help us to understand the societal implications."
Conversation focuses on recycling
Proving that the sustainable packaging conversation has shifted from compostability to recycling (see greenerpackage.com/node/3641) as the most efficient way to "keep the molecule in play," speakers including Speck, Scott Vitters, general manager of the PlantBottle Packaging Platform for The Coca-Cola Co., and Jim Hanna, director of Environmental Impact for Starbucks Coffee, described how their companies are creating strategies to support the growth and viability of recycling.
At Marks & Spencer, under its Plan A sustainability initiative, the retailer has been able to label 91% of its packaging as recyclable. To achieve greater recycling rates, M&S has standardized its food plastics to include only PET, polypropylene, and polyethylene. "We are doing this to increase the amount of plastic that is actually being recycled by our partners. We are also creating an end market for these materials," said Speck.
In his presentation on the development of the recyclable plant-based PlantBottle from Coca-Cola, Vitters stated unequivocally, "Biodegradable is not the answer for rigid beverage containers. From an environmental perspective, we want to reclaim those [packaging] materials, that energy, and use it again and again."
He shared that several years ago, Coca-Cola realized that in order to meet its targeted growth of 3 billion servings per day by 2020 (up from 1.5 billion today), it would need to decouple its plastic packaging from fossil-based materials. The PlantBottle, a PET container made from 30% responsibly sourced sugarcane, enables Coca-Cola to continue using a packaging format that consumers prefer, while building on the recycling initiatives and infrastructure it has already developed.
On day two of the symposium, Hanna shared Starbucks Coffee's ongoing challenges with its cup-recycling initiative (see video at http://bit.ly/eubIAS). In 2009, the company announced that all of its single-serve cups—Starbucks uses 4 billion annually—will be recyclable or reusable by 2015. "The perception is that recycling should be an easy fix," said Hanna. "There is a lack of understanding around this issue."
The Starbucks coffee cup is a poly-coated paper stock topped with a thermoformed polypropylene lid that is typically landfilled, due to lack of market demand and recycling infrastructure. The company has attempted to solve the issue by engaging stakeholders from the entire value chain to develop a systems-based approach. "Recyclability is more about infrastructure than materials," Hanna noted. "We won't call our cups recyclable until they can be recycled in stores, in homes, and in public places."
As recycling of Starbucks's poly-coated cup has been proven to be mechanically possible, Hanna says the company's goal is to create market conditions that will make it worthwhile for recyclers to handle the material.
The future of EPR
A natural progression of the recycling discussion was a presentation by John Shanahan, senior director of Environmental Affairs for the Grocery Manufacturers Association, on recycling rates and Extended Producer Responsibility. According to a survey that GMA produced (see report, http://bit.ly/gBZpWL)—the results of which were unveiled at the symposium—recycling rates are on the rise, and packaging is leading the charge. "It is the engine on the train that's pulling recycling as we are going forward," Shanahan said.
The report indicated that as an industry, packagers have reduced 1.54 billion pounds of packaging over the last six years. In further research, the GMA determined that if EPR were to be implemented "it would result in some pretty significant reductions in sales."
Therefore, GMA's stance is that EPR is not a viable alternative to increase recycling rates, nor is it necessary in an industry that has been as successful with recycling as packaging has. The discussion that followed Shanahan's presentation was robust and at times heated, debating who should be responsible for recycling, how recycling should be financed, and how packagers can become involved in the process.
Hanna noted that it is not enough to tell legislators that EPR is not viable. Starbucks' strategy, therefore, has been to attempt to become involved in the dialogue so that they can in some way help shape the legislation.
Data will drive packaging decisions
A large part of day two of the symposium focused on the measurements and data currently being used to evaluate sustainable packaging. A number of presenters in quick succession outlined the myriad tools that have been developed to assist in this process. The message that became clear: There are many complementary tools right now, but some provide different results. The challenge is to standardize these metrics and tools to help level the playing field.
Day two morning keynoter, Greg Norris, PhD, The Sustainability Consortium (TSC) at Harvard University, put measurement, data, and analysis in context, reporting on the progress of TSC. The consortium is an independent organization of global participants who work collaboratively to build a scientific foundation that drives innovation to improve consumer product sustainability through all stages of a product's life cycle.
And at end of day two, a healthy number of participants were still in attendance to hear a keynote from Roger Zellner, director of Sustainable Packaging for Kraft Foods, who spoke about building trust in a brand through sustainable packaging. Zellner also provided an update on the Global Packaging Project an industry group developed to create a common language, metrics, and standards around sustainable packaging.
And lastly, Zellner also set the stage for one of SPS 2012's driving themes: waste-to-energy. "If you have to expend more energy to collect and recycle packaging than you would get by using it for energy, than waste-to-energy makes more sense," said Zellner. "Waste-to-energy is going to come."
To learn more about next year's event, scheduled for April 3-5 at the Houston Hilton and George Brown Convention Center in Houston, visit www.sustainablepackagingsymposium.com
Images provided by Jim Summaria Photography.
Companies in this article