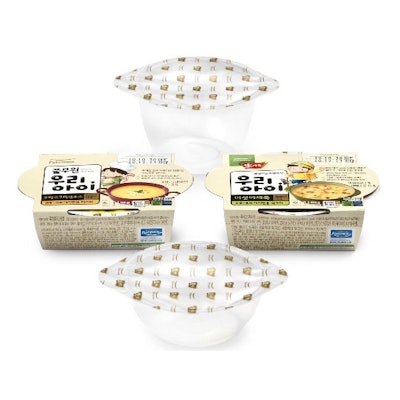 Pulmuone is one of the world's leading providers of fresh, natural, food products and is a large exporter to the U.S. Its product range includes noodles, tofu, dumplings, and soups.
Benco Pack, a division of Sacmi, custom designed a solution for the unique requirements of Pulmuone. It culminated in a fully aseptic packaging line that is highly automated and offers increased efficiency, ease of operation, and reduced packaging costs.
The horizontal aseptic machine uses a three-step packaging and filling process. Containers are thermoformed starting from a roll of multi-layer barrier film (PP/EVOH/PP), filled with the soup product, closed by application of a heat-sealed lidding material, and then cut to the desired configuration. The machine produces 6,000 250- or 500-g soup cups/hr and is pre-sterilized and maintained in sterile conditions by steam and hydrogen peroxide sprays. The packaging materials are sterilized and the process occurs inside a tunnel with an overpressure of sterile air.
Due to the aseptic packaging technology, the cups do not need to be distributed via cold chain. The technology has now extended the shelf life of the soup products to 60 days, while stored and distributed at ambient temperature.