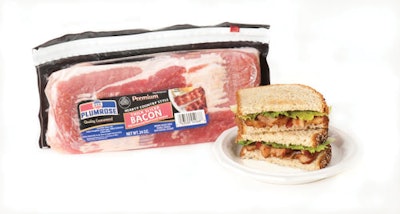 Increasingly, bacon packages incorporate slider closures, which consumers sometimes have expressed frustration in operating. Plumrose answered that challenge by adding a smaller, yet easy-to-grip slider clip to the package.
The Slider™ Advantage clip, from Zip-Pak, improves ease-of-use for consumers of all ages, and provides an environmental bonus, requiring less material to produce. It also provides resealability, thereby eliminating the need to transfer bacon to a separate container to preserve product freshness.
"Retailers understand that packaging is essential to connecting with consumers and are always seeking products that offer convenience," says Mike Rozzano, executive vice president at Plumrose Foods, East Brunswick, NJ. "We look for packaging solutions to provide added value, and the new Slider Advantage delivers."
Robert Hogan, director of international sales and marketing at Zip-Pak, says the new clip is 60% smaller than the previous one, and the zipper and flange require 40% less material.
"We are thrilled to be the first to market with the Slider Advantage," Rozzano says. "Especially for larger packages that are intended for multiple uses, incorporating a resealable closure not only adds a level of convenience but also keeps our brand in front of consumers throughout the last use."
Companies in this article