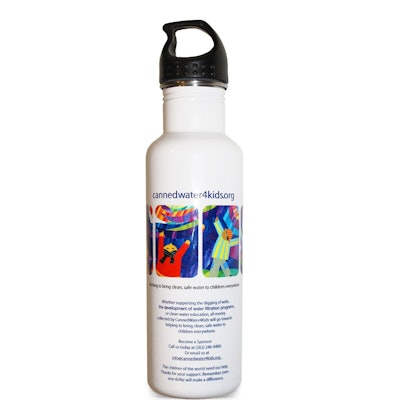 A limited number of specially designed, steel water bottles will soon be available for purchase from CannedWater4Kids (CW4K). The North American-based 501c3 nonprofit initiative was created to generate awareness and fund projects to purify water for children in developing nations and has received much support from packaging suppliers in the past. The 24-oz bottle is printed with colorful graphics that mirror the CW4K can using INX International Ink Co.Digital Division's new CP100 UV cylindrical printer.

"It's a great way for us to help CW4K supporters enjoy our fresh drinking water virtually anytime, anywhere. Just fill it up with CW4K water from cans," says Greg Stromberg, founder and CEO of CW4K. Stromberg is also INX director of sales, national accounts – Metal Deco.
Citing numerous studies that show contamination in most tap water throughout the U.S., Stromberg says each CW4K bottle "fill-up" conveniently puts two cans worth of pure water from a 300-year-old underground glacier at consumers' fingertips. "In addition, the purchase of these bottles is another way to support our efforts to help provide clean water for children worldwide," he says. According to Stromberg, more than a billion people on our planet don't have access to clean water. The World Health Organization (WHO) reports that a child dies every eight seconds from drinking unsafe water.
"Stainless steel bottles like these typically retail for about $25," Stromberg observes. "While we haven't yet determined a price for the CW4K bottles, 95 cents of every dollar — as with purchases of our water — will go toward projects such as drilling wells in developing nations, providing water purification packets, or donations to globally recognized clean-water causes. We are also considering providing a free (or reduced-price) bottle with purchase of a 24-can case of CW4K water for a limited time, or to a limited number of initial purchasers. These details will be finalized in February and posted on our Web site."
Stromberg notes that with the CP100 in-the-round printing machine, CW4K can also provide specially printed bottles for groups interested in displaying their own support for CW4K initiatives. "Thanks to ongoing industry-wide product and service support for our program — particularly INX, in this case, with their new cylindrical printing technology — we can potentially offer CW4K customers a variety of options," he says.
Companies in this article