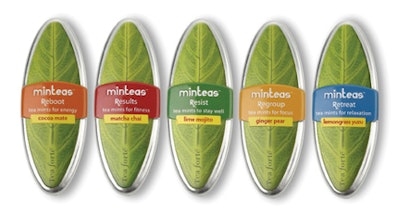 One of the newest products from premium tea purveyor Tea Forté of West Concord, MA, Minteas was launched last July to meet a growing trend toward health and wellness.
The new mints combine the anti-oxidant properties of green tea with other functional ingredients, such as fruit extracts and herbs. All-natural Minteas are vegan and sugar-free, and they contain no aspartame or animal gelatin. Minteas ingredients are also Fair Trade Certified and organic.
Packaging for the delicate mints, which also come in a leaf shape with embossed veins, was designed by Tea Forté founder and owner Peter Hewitt to be the "soul of the product, demonstrating how healthy, natural, and delicious the product is," he says. "I wanted it to differentiate itself from the anonymous mint packages that occupy market space by changing the way the consumer would think about the tin. The Minteas package challenges the other offerings, as it is more than a package, it is a sculpture that demands that you look at it."
The silver, 1-oz tin is made through a 12-step steel-stamping, forming, and embossing process by a proprietary supplier. The tin is then six-color screen-printed, after which selective gloss and matte varnish are added. The main graphic pattern on the resealable lid is of a leaf, decorated in various hues of green.
A colored band across each tin differentiates the five flavors. For example, Minteas Retreat tea mints for relaxation uses a deep teal band, with the flavor's signature ingredient, lemongrass yuzu, listed below in a yellow banner. Minteas Regroup tea mints for focus uses an orange band, with "ginger pear" listed in the banner below. Other varieties include Reboot for energy with cocoa mate; Results for fitness, with matcha chai; and Resist for staying well, in Lime Mojito flavor.
Hewitt notes that the tin is an example of how design-mindfulness can create a package with a personality. "The small, sturdy tin fits into purse or pocket and is a convenient way to embrace a life of wellbeing," he says. "Distinctively designed, the tins are airtight and recyclable, with a colorful tea leaf-embossed lid that communicates logo, identity, health, and wellness, underscoring what a difference good design makes. Not wanting to create a prettification of a tin, each Minteas package is an aesthetic of what it contains, with the goal of creating an impression on the consumer for the standout experience it offers. A packaged experience."
Minteas are available nationwide in specialty food and grocery stores, select department stores, gift shops, and other specialty retail stores for $2.99 apiece.