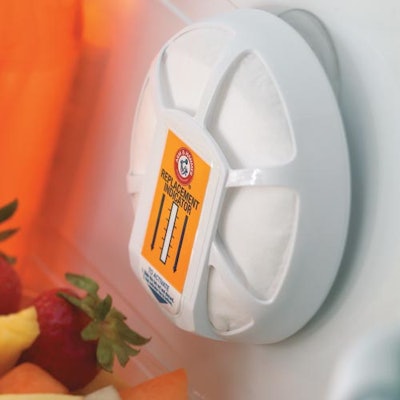 Improved consumer convenience seems to be an overarching theme among labeling companies exhibiting at PACK EXPO, and one of the most compelling examples of consumer-friendly labels is on display at WS Packaging Group's booth. WS Packaging claims to have solved a long-standing consumer conundrum—when to replace the Arm & Hammer Baking Soda refrigerator air freshener.

WS Packaging developed the "replacement indicator" exclusively for the "New FridgeFresh™ Refrigerator Air Filter" from Arm & Hammer. The white bar on the label turns pink over time. When it is completely pink, the air filter needs to be replaced.

The label uses the chemical reaction between two microencapsulated proprietary materials to signal when it's time to replace the air filter. Key objectives of the project were to make the label highly functional and easy to use. It also had to physically be part of the product casing, but not interfere with the functionality of the air filter device.

"We took the label to market in less than two months," says Ron Hagen, research and development manager with WS Packaging. "Church & Dwight, the parent company of Arm & Hammer, had an established timeframe for launching its new FridgeFresh Refrigerator Air Filter. We had to meet that deadline with a fully functioning label, despite the technological hurdles of engineering a multiple-ply construction that had never been done before."

The pressure-sensitive labels are produced in a single pass on a Webtron flexo press at the WS Packaging facility in Neenah, WI. The construction includes the label material, proprietary inks used for the indicator, a separation strip the consumer removes to activate the indicator, and a top ply.

The device can be placed in the freezer or refrigerator and should last three months in the refrigerator and six months in the freezer, according WS Packaging. The flow-through design of the filter exposes two times the amount of Arm & Hammer Baking Soda versus the regular 1 lb. box.
Companies in this article