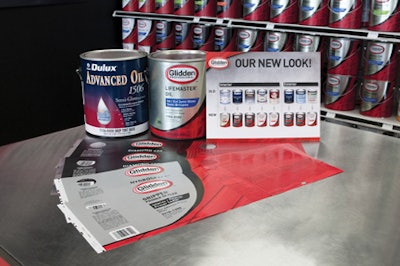 For Glidden Professional paint, that recognizable distance is not merely a few feet across a store aisle, but 50 yards—across a construction site. "We've taken principles seen in the consumer market and applied them to the contractor side; that's unique versus the competition," explains Helen Shaw, Glidden Professional brand manager. "Even 150 feet across a job site, you can see one of our new cans and know immediately that it's Glidden Professional paint."
After acquiring the ICI Dulux brand of professional paints, AkzoNobel recognized the brand lacked organization and visual impact, and had not gained enough presence with large-volume paint contractors. AkzoNobel approached Interbrand to rebrand the U.S. line as Glidden Professional and also to establish a distinct and cohesive brand position and experience.
The new label design for Glidden Professional is masculine and trade-oriented, as well as sophisticated and consistent across the line. To improve shoppability, the logo stands out against a "shield" design whose color changes, depending on product variety. The shield is distinctive against a black border and the rich red color of the background on the bottom and right side of the can, which is accented with abstract patterns.
Companies in this article