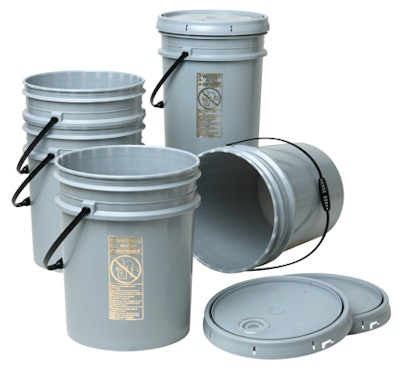 Bway Corp.'s new Eco-Pail™ carried a lot of weight with judges, winning an award for Secondary/Large-Format Packaging. The 5-gal pail, which so far has been used with paint, lubricants, food, and adhesives since being introduced in April 2009, affords a number of sustainability advantages over a traditional high-density polyethylene pail. And ultimately, it provides a cradle-to-cradle alternative to a package that typically is disposed of in a landfill.
Notes Bway's Greener Package Awards entry form: "The goal was to develop a pail package that reduced the amount of raw material required to make the product while providing an overall package that could be recycled and meet all current performance standards as established by the industry and customers."
The result is an HDPE pail containing 37% post-consumer recycled resin that uses 8% less material than a standard HDPE pail, taking 1.4 million lb of HDPE out of the supply chain each year. Minimal ribs molded within the container body provide stacking strength and allow for a reduced sidewall thickness. The pail is manufactured using Bway's exclusive TwinShot molding technology—a co-injection process with a single extruder. It produces a pail that has an outer core made from virgin HDPE and an internal core of PCR. Bway says the TwinShot process improves pail performance and allows for the use of up to 50% recycled resin.
One of the biggest challenges of the design, and one that Bway's vice president of Strategic Initiatives, Darrel Davis, calls "the holy grail of quality improvement" in the pail industry was the elimination of the rubber gasket. Bway solved this challenge by designing the Tri-Seal in-molded gasket cover, a mechanical seal with three sealing points. Bway also replaced the pail's steel handle, which is now made from black rHDPE, and the tin-plated fitting, which is now plastic. The lid is made of recyclable virgin HDPE.
These design changes mean that the pail is 100% HDPE, which can be recycled and reused to make additional Eco-Pails, for a cradle-to-cradle solution. Says Davis, "There are strong recyclers that are supporting this."
To quantify the sustainable value of the Eco-Pail, Bway contracted third-party consultant Simply Sustain, LLC. They determined that it uses 31% less Non-Renewable Energy Used (NREU) and reduces CO2 emissions by 30% throughout its life cycle.
Davis says customer response to the Eco-Pail has been "huge." He adds, "The Eco-Pail outperforms the standard five-gallon pail, and customers see it as the solution to their sustainability requirements."
Companies in this article