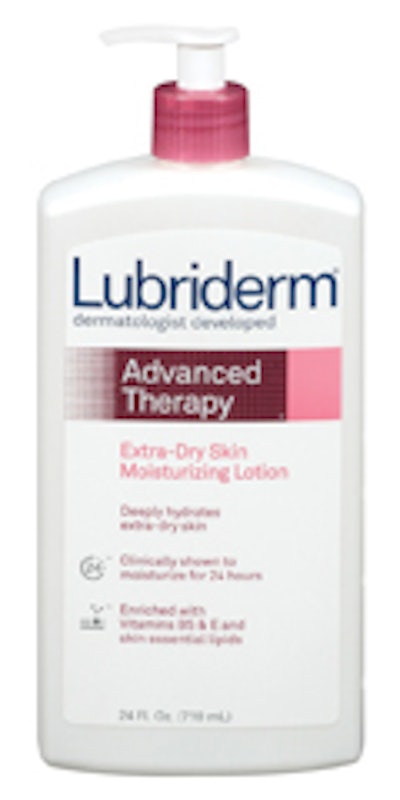 She says that J&J had not refreshed the package since it acquired the brand from Pfizer in 2007. "We wanted to increase the brand's appeal to consumers," she notes. Citing the existing bottle's strong consumer appeal and "unisex look," Thompson explains that J&J focused instead on new components and graphics during the redesign. Among the changes are a new, textured pump collar and a unique label technology from a proprietary supplier that incorporates textured ink in a raised dot-pattern configuration. A pearlized colorant was also added to the rectangular bottle—a clean white package that provides a clinical feel for the "dermatologist developed" skincare product.
Color, while spare, plays a vital role in the redesign, as well. The brand's three main product platforms—Daily Moisture, Advanced Therapy, and Intense Skin Repair—are now decorated respectively with blue, magenta, and yellow pump collars and label graphics. "This makes it easier for consumers to differentiate among SKUs at point of purchase," says Thompson.
The new package design, along with a new 24-oz clubstore size and a new formulation, Lubriderm Advanced Therapy Moisturizing Lotion SPF 30, were launched in fall 2009 in the U.S. The new packaging will be introduced in Mexico and Canada this year.
Companies in this article