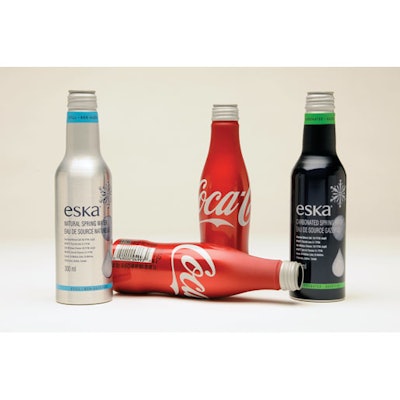 New Coil-to-Can (C2C) technology from Exal Corp. and Alcoa Rigid Packaging allows for the manufacture of eye-catching, resealable, shaped aluminum bottles at substantially higher line speeds and with 30% to 40% less weight than previously achievable, making them a viable option for higher-volume beverage applications (see packworld.com/article-28201). "The marketing world loves the aluminum bottle," says Ed Martin, business development manager for bottle manufacturer Exal. "A lot of people like what you can do graphically, as well as with shaping. But from the standpoint of cost and sustainability, there are some challenges to the bottles because of the way they have been made using impact extrusion."
C2C is a hybrid technology developed by Exal through an investment of eight years and many millions of dollars that combines the speed of traditional canmaking with the shaping abilities of the aluminum-bottle impact extrusion [IE] process. For enhanced sustainability, C2C also allows the bottles to be made from up to 65% post-consumer recycled aluminum alloy, compared with the 99.7% pure virgin aluminum required for IE. Alcoa supplies the raw-material aluminum coil used to make the container.
Among the markets in which Exal sees the greatest potential for C2C packaging are wine, functional or wellness beverages, water, carbonated soft drinks, and beer. Early adapters include Eska Vives Water, Inc., with its Eska still and sparkling water varieties (see packworld.com/article-28203), and The Coca-Cola Co., which launched an 8.5-oz custom C2C bottle in fall 2009 for its Coca-Cola classic, Coke Zero, and Diet Coke brands.
C2C combines traditional drawn and wall-ironed (DWI) canmaking technology on the front end with IE shaping capabilities on the back end, using a custom-designed 32-station, double-turret continuous necking machine from Frattini S.p.A. The necking machine, commissioned by Exal expressly for C2C, is engineered to handle the less-malleable materials used for DWI cans at speeds up to 3,000 bottles/min—a significant increase in speed from the 200 bottles/min produced with traditional IE technology.
Exal is optimistic about the potential for the new technology. Says Martin, "The future is largely C2C. In terms of dollars and units, it's going to be largely the coil-to-can type containers that will drive the aluminum beverage-bottle market."
Companies in this article