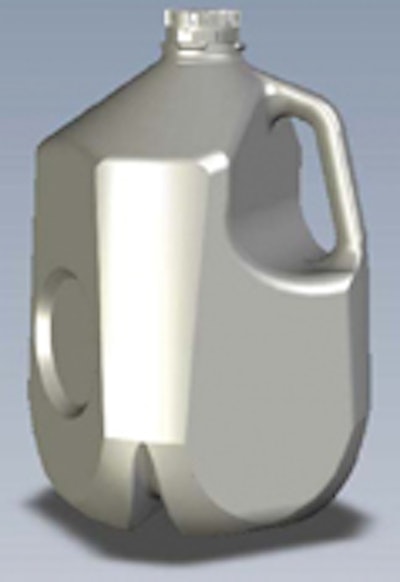 These bottles are shown below and were identified as original (A), cube (B), and stackable (C). The original and cube designs require reusable plastic crates and one-time use band straps for unitization, whereas the "stackable" design requires one-time use corrugated fiberboard slip sheets as well as stretch wrap for the same process.
This study considered a functional unit of one-gallon of packaged liquid milk for delivery to institutional customers (on-site users) and retailers within 250 miles from the processing and packing plant. Data related to milk production and processing was not included in this study. Environmental burdens of green house gases (GHG), energy, and solid waste were investigated based on material, process and transportation factors associated with the system boundary selected. The LCI-based results were used to compare and contrast these burdens and to provide a decision tool for adopting the primary container for the selected system with the lowest environmental impact.
As related to the raw materials, the stackable design contributed 34% and 26% higher GHGs and used 36% and 28% more energy per unit than the original and cube designs respectively. With respect to processing of these raw materials, the stackable design's GHG and energy contributions were 8% and 10% higher as compared to the original and cube containers. These results can be attributed primarily to more resin used per container for the stackable container for enabling distribution without any crates. This disadvantage was overcome by the stackable container in the GHG and energy contributions as related to transportation where the original container's contribution was 9% and that of the cube containers was 19% higher than stackable containers.
The study, as related to the system boundaries considered, concluded that the use of reusable crates reduces the material requirements of the primary package and this attributes to a lower environmental burden. It was also noticed that transportation weight limits must be considered as a limiting factor in package design for liquid products, as trailers "weigh out" before they "cube out". In other words, for refrigerated trailers the product cannot be stacked as high as the available open space in the trailer. Amongst some other key observations from the study were that the manufacturing of the primary containers made the largest contribution to the carbon footprint of the package system and that transportation had the lowest effect on energy usage for all three package systems for milk distribution.
The main purpose of this study was to provide a relatively uncomplicated methodology to serve as a decision making tool when more than one packaging solution is available to a user. It conducted a LCI and as related to a complete Life Cycle Assessment (LCA) study, the outcomes were limited to environmental burdens and not impacts.
Jay Singh is associate professor and packaging program director at Cal Poly State University. He can be reached at jasingh@calpoly.edu.