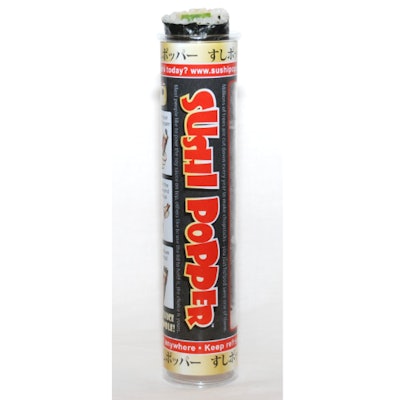 If today were April Fools' Day I would have my doubts, but this appears to be legitimate. Packaged by Popper Foods, LLC with offices in New York and Las Vegas, "Sushi Poppers" are tubes of fresh sushi rolls eaten on the go by popping up the next piece.
Sushi is packaged in a tube with clear top and sides so you can see the next roll, and includes a side handle filled with soy sauce that you can remove and pour into your tube.
A fun
website
that even makes a "green" claim that Sushi Poppers save millions of trees that are cut down every year to make chopsticks, the product hails itself "a portable tube with fresh, pre-sliced sushi that is pushed up from the bottom and eaten from the top."
The website offers a variety of flavors from raw and cooked fish to vegetarian and meat.
I can just imagine sitting in the bleachers at Wrigley Field next summer when the vendor passes down the aisle. "Get your peanuts, popcorn, sushi pop!"
Get your daily dose of global packaging trends, follow me on
Twitter
.
Companies in this article