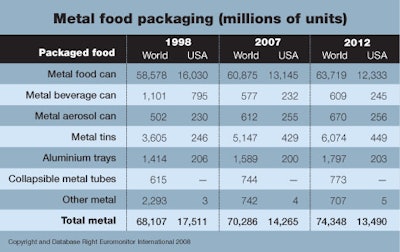 Growing concerns over the safety of the chemical Bisphenol-A (BPA) could potentially force disruptive change in the packaging value chain. As the packaging community vigorously defends the safety of BPA through scientific research, other studies suggest that the chemical could cause health problems by leaching into liquids or foods from polycarbonate baby bottles and water bottles, or from the epoxy resins used for protective liners in canned goods.
"Bisphenol-A is an important chemical building block that is used primarily to make polycarbonate plastic and epoxy resins, both of which are used in a wide variety of applications that make our lives better and safer," writes Steven G. Hentges, Ph.D., in a Bisphenol-A Fact Sheet from the American Chemistry Council's (www.americanchemistry.com) Polycarbonate/BPA Global Group.
"Polycarbonate is a lightweight, high-performance plastic that possesses a unique balance of shatter-resistance and optical clarity as well as high heat and electrical resistance," he says. "When used as a coating on the interior of metal cans, epoxy resins protect the integrity and safety of our food supply by preventing corrosion and contamination of canned foods and beverages with metals and bacteria."
Why the current BPA backlash?
The Polycarbonate/BPA Global Group fact sheet mentions that BPA has been produced commercially since the 1950s. The current concern about BPA's safety stems from a variety of recent research reports about its possible dangers. Perhaps the most influential report came earlier this year in a draft brief from the U.S. National Toxicology Program (NTP). Established in 1978 by the Secretary of Health, Education and Welfare (now known as the U.S. Department of Health and Human Services), the NTP draft brief was based on a report completed last fall by an expert panel on BPA convened by the NTP Center for the Evaluation of Risks to Human Reproduction (CERHR).
The NTF's main draft conclusions were reported on the National Institute of Environmental Health Sciences (NIEHS) Web site. "What is the bottom line?" asks a question on the NIEHS site. "Can Bisphenol-A affect human development or reproduction?" Its answer: "Possibly. ...Recognizing the lack of data on the effects of Bisphenol-A in humans and despite the limitations in evidence for 'low'-dose effects in laboratory animals, the possibility that Bisphenol-A may impact human development cannot be dismissed."
The NTP report came on the heels of the U.S. Food and Drug Administration's mid-April announcement that it had formed an agency-wide task force to review current research on BPA for all FDA-regulated products. A report within the hot topics portion of the FDA's Web site says, "Based on our ongoing review, we believe there is a large body of evidence that indicates that FDA-regulated products containing BPA currently on the market are safe and that exposure levels to BPA from food-contact materials, including for infants and children, are below those that may cause health effects. However, we will continue to consider new research and information as they become available."
Driving change
The possibility of BPA-related health risks has already helped to drive change at both retailers and container manufacturers. The Washington Post reported this spring that Wal-Mart will stop selling baby bottles containing BPA in the U.S. by early next year. Toys "R" Us and Babies "R" Us will phase out baby bottles with BPA, reported MedicineNet.com.
Washingtonpost.com said, "Wal-Mart has sold BPA-free baby bottles for years alongside bottles with the chemical. But yesterday [April 17] was the first time the retailer indicated it would convert its entire U.S. stock." The article quotes Wal-Mart spokesman Nick Agarwal writing in an e-mail, "We are working hard to expand our BPA-free offerings."
Bottle maker Nalgene (www.nalgenechoice.com) announced that it will phase out the production of its Outdoor line of polycarbonate containers that include BPA over the next several months. On the company's Web site, Steven Silverman, general manager of the Nalgene business, says, "Based on all available scientific evidence, we continue to believe that Nalgene products containing BPA are safe for their intended use. However, our customers indicated they preferred BPA-free alternatives and we acted in response to those concerns." The company recently unveiled its Everyday line of bottles manufactured with Eastman's (www.eastman.com) Tritan™ copolyester.
Consumers not only can influence what's sold in the market, but also have an impact in the courtroom. For example, a U.S. woman filed a federal lawsuit against Playtex Products, alleging that Playex did not disclose that its baby bottles contained BPA. Four Ohio parents filed a federal lawsuit for a similar reason against Evenflo Co., Avent America Inc., Handicraft Co., Gerber Novartis, and Playtex.
Washington brings the heat, too
If pressures from consumers, retailers, and bottle makers weren't enough, some in the government are also critical of BPA. Edward J. Markey's June introduction of a "Ban Poisonous Additives" Act to prohibit the use of BPA further fanned the flames of controversy. Markey (D-MA) is a senior member of the House of Representatives' Energy and Commerce Committee, with oversight of the U.S. Department of Health and Human Services.
"From baby bottles to cans of chicken soup, BPA is present throughout American life," Mackey says on his Web site. "But concerns about the effects of BPA on human health have been mounting, and we've reached a point where the risk is simply too high. For the sake of the health of every man, woman, and child in America, the best course of action we can take right now is to completely ban BPA in food and beverage containers, especially because there are alternatives already available."
NAMPA's bullish on BPA
The FDA's pro-BPA position boosted the volume of the packaging community's support of BPA. John M. Rost, Ph.D., and chairman of the North American Metal Packaging Alliance (www.metal-pack.org), said the following in a NAMPA press release: "Metal cans are an essential technology that provides consumers with safe food and beverages. Expert regulatory authorities around the world have unanimously determined that epoxy coatings made with BPA are safe for food packaging. We are pleased the FDA has reaffirmed the safety of this application and resisted the calls for increased regulation or bans on unsubstantiated claims."
NAMPA's legal manager Lynn L. Bergeson provides a thoughtful perspective on the BPA debate. "Certain scientists have espoused what is called the 'low-dose hypothesis' that has received significant media attention, though it's never been validated or confirmed," she says. "In essence, the low-dose hypothesis is that very, very low levels of BPA are capable of causing adverse health effects, particularly with respect to development and reproduction. NAMPA doesn't agree, nor does the scientific community.
"We remain supportive of sound science—it's not that we're resistant to [health] claims. Reviews that have evolved in the past 24 months have validated the safety and functionality of these epoxy resins. Unless and until government reviews conclude differently, we will continue to support the applications of [these] products."
Bergeson says NAMPA members include producers of BPA, epoxy resins, metal can suppliers, canmakers, and users of metal packaging.
Strong support for BPA
There's no question about the stance taken in a paper issued by the Grocery Manufacturers Assn. (www.gmaonline.org/science/index.cfm). It says, "On the one hand, a considerable, well-developed body of peer-reviewed and validated findings from reputable scientists and scientific organizations indicate that BPA is safe, indeed very safe (margins of safety in the tens of thousands) to children and adults.
"On the other hand, a small number of vocal critics present conclusions and opinions that are inconsistent with accepted rigor and practice. Their findings are embellished with hypotheses and conjectures suggesting—without benefit of replication—that BPA may be injuring exposed humans in many ways by somehow disrupting the proper functioning of the endocrine system."
Then there's this pro-BPA information at www.bisphenol-a.org: "For decades, polycarbonate plastic has been safely used to make baby bottles and reusable water bottles. ...Recent evaluations by the European Food Safety Authority and NSF International [a public health and safety-related company] both provide strong support for the safety of polycarbonate bottles. In spite of this strong scientific support, numerous myths, misinformation and scare stories about polycarbonate bottles continue to circulate. ...The conclusions of comprehensive evaluations of the safety of BPA conducted by independent government and scientific bodies worldwide have, in every case, supported the safe use of polycarbonate baby bottles and water bottles."
Strong opposition to BPA
Not every organization agrees with those conclusions. In fact, just as scientific research is used to support BPA's use, so too is it used to oppose the chemical's use.
Reports the Environmental Working Group (www.ewg.org/reports/bisphenola), "BPA is associated with a number of health problems and diseases that are on the rise in the U.S. population, including breast and prostate cancer and infertility. Given widespread human exposure to BPA and hundreds of studies showing its adverse effects, the FDA and EPA [Environmental Protection Agency] must act quickly to set safe levels for BPA exposure based on the latest science on the low-dose toxicity of the chemical."
In its report, the EWG says "studies by European scientists show that BPA is just one of many chemicals that leach out of food can linings. Tests of just three can coatings found at least 23 different BPA-related chemicals leaching into food, all without legal limits [Schaefer and Simat 2004]. Research shows these contaminants occur at levels that can dwarf better-known environmental pollutants that accumulate in food, like PCBs and DDT. ...FDA has tallied more than 1,000 indirect food additive chemicals in packaging and food processing, but food is just one of the many ways humans are exposed to industrial chemicals."
A May/June 2006 article in The Green Guide said, "Ninety-five percent of Americans were found to have the chemical [BPA] in their urine in a 2004 biomonitoring study by the Centers for Disease Control and Prevention."
The article quotes Frederick vom Saal, Ph.D., a developmental biologist at the University of Missouri, as saying that the studies showing BPA is safe are "profoundly flawed and in some cases outright fraud." Last year, he published a paper showing that 100 percent of the industry-funded studies, 11 in all, found no harmful effects from BPA, while 90 percent of government-funded low-dose studies, 104 in number, found harmful effects. "Among people who have actually read this literature there is no debate, just an illusion of controversy," vom Saal writes.
Potential implications
A ban of BPA, which has been used for decades, could cause tremendous change throughout the packaging value chain. Says Bergeson, "The potential implications would go far beyond NAMPA members. It would have a profound effect on the global distribution of food, largely because these epoxy resins have been used for 50 or 60 years. They help prolong the shelf life of canned goods, in essence doubling it. They have made the integrity of cans far more durable and more resistant to exterior trauma. They have made canned goods more resistant to microbiological contamination. If you were to eliminate that either precipitously or even through a phase-out period, it would be very damaging to just about all economies."
Banning BPA "could shut down the markets that have it," adds Dr. Kay Cooksey, professor and Cryovac (www.sealedair.com) endowed chair with Clemson University's Packaging Science Department. "It would have a huge impact if they suddenly ban it, but I can't imagine the government being able to get it banned," she says.
Cooksey understands that "all the hype about cancer and birth effects is scary to people. You can put out a 'scientific' study that's hard to understand and easy to misconstrue. At some point, you just throw your hands up," she says. "I would feed a baby in my family from a polycarbonate bottle that includes BPA. But if the public is scared by it and it upsets my sales [as a retailer], I would probably try to find an alternative."
Cooksey says panicked consumers may force industry to make a change from BPA. "Why is it that packaging has to change, sometimes for illogical reasons? I think part of it is the lack of communication on our part. We don't explain the technical side of the equation carefully to consumers to prevent them from being scared when environmental groups get a hold of it," she says.
She adds that the situation is exacerbated by the public's growing lack of trust in the FDA. "We keep reading that FDA is losing consumer trust on this issue. It doesn't sound like the FDA is going to be able to come out and say this is safe because they already have been, and nobody believes them."
The market will decide
At the June Packaging Law Forum (www.packaginglawforum.com), sponsored by Packaging World magazine, speaker Victor Bell of consultancy Environmental Packaging International (www.enviro-pac.com) blamed the mass media for confusing consumers about BPA's safety. He cited a recent television report about the subject showing a person drinking water from a PET bottle, which is not made from BPA. "BPA will remain a huge issue," he said.
Especially striking was a comment Bell made about Wal-Mart being the world's largest regulator. So while the federal government may not issue an outright ban on the use of BPA in packaging materials, public concern may push retailers—presumably led by Wal-Mart—to pull BPA—containing bottles and cans off the shelves, a situation that's already occurring. A complete withdrawal of cans and bottles with BPA would be a shot heard around the packaging world.
Companies in this article