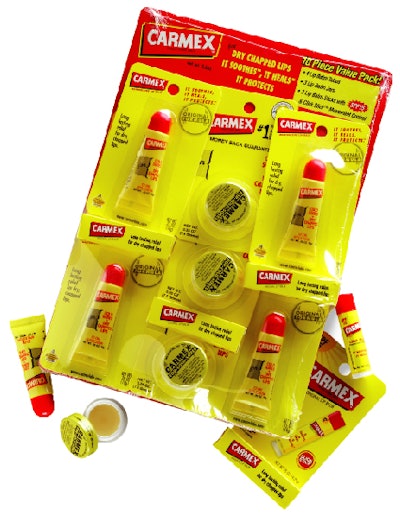 Since 1937, Carma Labs has been soothing chapped lips and cold sores with its Carmex moisturizing lip-balm product. In its earliest days, Carmex was prepared by founder Alfred Woelbing and his wife using a hot plate and a kettle. Product was then filled by hand into the company's trademark small, glass jars. Today, the still-family-owned company operates a 44,000-sq-ft manufacturing facility in Franklin, WI, that produces not only the jars, but also tubes and sticks of the lanolin-based balm, in flavors that include Cherry, Strawberry, and Mint, in addition to the Original variety.
In recent years, Carma has begun offering a range of product variety options, as retailers increasingly look to them for new and unique packaging configurations to fit their customers' needs (see www.packworld.com/view-24445). According to Carma production manager Don Finney, key to expanding into new packaging presentations, such as multipacks, variety packs, and custom displays, has been the versatility of Carma's packaging equipment. Instrumental to its entrée into the club-store scene, in particular, is a new, first-of-its-kind automated, in-line adhesive applicator from Glue Dots Intl. (www.gluedots.com), the SynchroDot™ Pro, installed in late 2006 to facilitate the packaging of a 10-item value pack for Sam's Club.
Card is a sight for sore lips
As Finney relates, it used to be that supplying Carma's retail customers was a simple matter of shipping them the requested number of individually packaged Carmex lip-balm sticks, jars, or tubes. Two years ago, the company formed a sales team that now sells unique packaging formats and product mixes to a range of retail environments. "It opened up an entirely new area for us, as far as design, materials, our suppliers, and new contacts," he says. "It's been very fast-paced, as you might imagine."
In spring 2006, at Sam's Club's request and with the help of Xpedx (www.xpedx.com), Carma Labs developed a 10-piece value pack—four lip-balm tubes, three jars, and three sticks—suitable for resale by small-business customers or for family use. The package comprises an E-flute corrugated card with a litho-laminated label on front upon which are attached, via removable adhesive, 10 individually packaged products (jars and tubes are in blister-packs; sticks are in cartons). The card is then shrink wrapped with a clear film. For Sam's small-business customers, the format provides an easy-to-stage display that enables consumers to remove items without tearing the card, or the products can be displayed separately on pegs.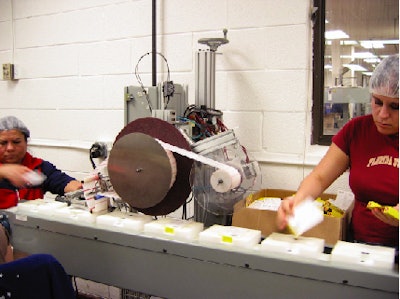 The dimensions of the 81⁄4 x 12-in. card were carefully calculated by Xpedx to allow flexibility for use with other product configurations. "We took Carma Lab's largest product size at the time, and we combined it in a number of different formats to come up with a card size that was flexible enough that Carma could use it with other product mixes and piece counts without having to change the packaging," explains Xpedx packaging sales specialist Pete Wendt.
To secure each product to the backing card, Xpedx chose Glue Dots, a 1⁄2-in.-dia pressure-sensitive adhesive delivered on a liner. The Glue Dots adhesive was selected not only because it can be removed without damaging or marking either the backing card or the products to which it is adhered, but also because it holds the items neatly in place during shrink wrapping.
Site is first for new equipment
At the same time as Carma Labs was designing its Sam's multipack packaging, Glue Dots Intl. was developing its first fully automated, in-line adhesive applicator, the SynchroDot Pro. Aware of this, Xpedx facilitated the first installation of the equipment at Carma and helped design a custom puck and conveying system from Facility Functions (www.facilityfunctions.com) to carry products to the applicator.
During multipack assembly, individually packed balm is placed manually into the pucks, which are shaped to accommodate all three of Carma's products, and is carried by conveyor under the applicator. The SynchroDot Pro is triggered by a sensor to lay down two dots, one-inch apart.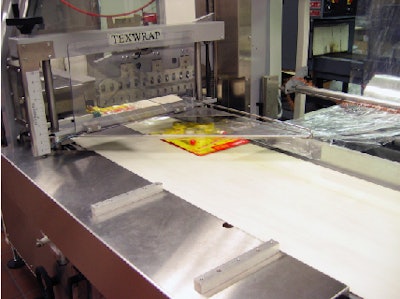 "We made a custom liner for Carma, as well as a custom adhesive pattern," relates Reid Moertl, Glue Dots Intl. application equipment engineer. "Then we augmented the machine to accept this wider roll. A standard liner is one-inch wide. So we made modifications to accept a three-inch-wide liner."
After the adhesive is applied, operators remove the products from the pucks and attach them to the corrugated cards, which are then fed into a Texwrap (www.texwrap.com) 1810 automatic shrink-wrap machine.
Finney relates that the speed of the machine is dependent upon how quickly an operator can load the pucks. However, the machine's top-rated speed is 60 ft/min.
In conclusion, Finney relates, "Glue Dots integrated the SynchroDot Pro into our facility quickly, allowing us to ramp up production. The custom solution has proven to be cost-effective, and it allows us to meet shipping deadlines and grow sales."
Companies in this article