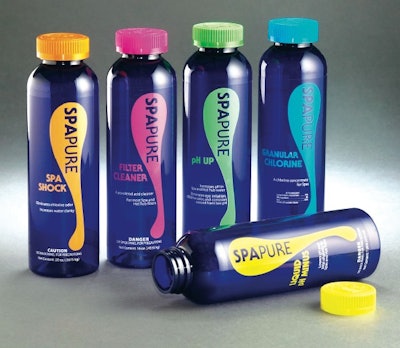 Haviland Consumer Products, Grand Rapids, MI, has marketed its line of SpaPure hot tub chemicals using 16-oz white, cylindrical high-density polyethylene bottles and a two-color paper label for 20 years. The bottles, however, looked their age.

"They were very industrial looking," says operations manager Tom Dyke, "and we were looking for a fresh, new look. But upgrading them to a sleek and eye-catching PET container presented a twofold challenge: There were no stock bottles we found that appealed to us, and second, annual runs of 150,000 seemed too low to justify the cost of custom molding."

For a solution, Haviland turned to All-Pak Corp., a full line container distributor. "We presented a series of packages to Haviland that represented various styles and capabilities that we offer," says Bret King, All-Pak's national accounts manager. "Haviland chose a cobalt-blue PET container based on one of the samples we showed them." All-Pak then worked with Novapak Corp., a blow molder of standard and custom containers, to develop drawings of the final bottle design.
Universal preform reduces costs

Novapak employs a two-stage process that utilizes universal preforms, eliminating the high cost and turnaround associated with injection-mold tooling. Custom, two-cavity blow mold tooling can be produced at relatively a low cost and in short timeframes. A wide range of custom containers can be blow molded from each universal preform. According to Novapak, a minimum order for nonclear PET bottle is about 100,000 bottles.

In addition to meeting Haviland's cost requirements, the new bottle was produced in a relatively short timeframe: "The molder provided drawings in one week, and we had custom PET bottles in four weeks," says Dyke.

The "bullet"-style cylindrical bottle measures almost 8" tall and nearly 2 1/2" wide.

Dyke says, "The previous HDPE bottles had either a 28- or 38-mm neck finish, for either a liquid or granular product, respectively. The new PET bottles have a 38-mm neck finish and a custom shoulder design to accommodate the wide neck for ease of filling both powders and liquids."

Color-coded for clarity

All-Pak enlisted Mold Rite Plastics to supply 38-mm child-resistant closures in five fluorescent colors. Each cap color denotes a product category, making it easier for customers to identify the correct product on the shelf. In total, the SpaPure line consists of 20 products in five color-coded categories: granular chlorines and bromine (blue); shock products (orange); increase pH (green); lower pH (yellow); troubleshooters, including defoamer (pink).

To eliminate any chance of bottle "distortion," All-Pak utilizes caps with vented liners that allow interior and exterior pressures to equalize while preventing product leakage.

Haviland contracted with Artex Label & Graphics to supply clear labels with fluorescent printing that matched the cap colors. Artex experimented with several materials before choosing a biaxially oriented polypropylene substrate that provides a glossy finish and no-label look. The company worked closely with its ink supplier to formulate a water-based ink that enables flexographic printing of a true opaque white, which is not susceptible to see-through of the bottle's medium blue tint. Artex matched the five closure colors with Pantone formulations of their inks, which include UV-resistant additives.

Haviland Consumer Products performs all the packaging in Grand Rapids.

"The bottles were launched in December 2006 at the International Pool & Spa Expo in Las Vegas, NV, where they were highly effective at attracting and interesting attendees," says Dyke. The new packaging was offered through dealer networks, he adds, with pricing set by each dealer.

The new bottles' custom cobalt blue color and color-coordinated components "jump out on store shelves," says Dyke. "When the bottles are together on display, they catch consumers' attention. The response to the 'new-look' SpaPure has exceeded our projections."

All-Pak received a silver award in the household chemical category from the National Association of Container Distributors during its 2007 annual packaging awards competition.
-Rick Lingle



Companies in this article