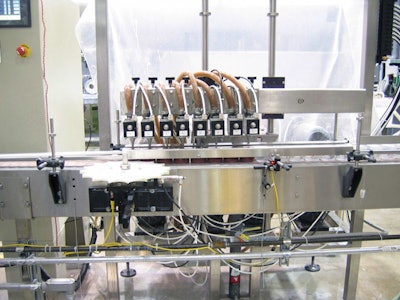 A comparatively small but dynamic player in the increasingly consolidated home paint market, Matteson, IL-based Ace Paint Division of Ace Hardware Corp. prides itself on developing innovative, high-quality products to secure its Ace dealers' loyalty. Ace Hardware is a co-op network of more than 4,800 stores, and while store owners are encouraged to stock Ace brands, they are not required to do so, keeping Ace Paint on its toes.
In early 2006, Ace Paint introduced the Paint Pod line of paint samples—a selection of 180 paint varieties in 4.75-oz jars that allows consumers to experiment with different paint colors before committing to larger volumes. Initially, the Paint Pod products were tinted and filled by a copacker, until these capabilities were brought in-house to Ace Paint's second facility in Chicago Heights, IL, this year.
"After a short time, we realized that we would have better control of the quality and could produce the Paint Pod products at a lower cost to our dealers if we installed our own line," explains Doug Boyd, plant/production manager for Ace Paint, Chicago Heights.
The resulting, fully automated line began running last June and consists of front-end equipment, including a bottle unscrambler, a filler, a cap sorter, a capper, an induction sealer, and a top-and-bottom labeler, all supplied by E-Pak Machinery, Inc. The end-of-line machines were supplied by Tekkra Systems, Inc. and include an integrated pick-and-place pad inserter and shrink bundler, two print-and-apply labelers, and a case packer.
Boyd notes that a team from Ace Paint selected Tekkra and E-Pak as the main suppliers for the project not only because of their fine reputations, but also because of "the reputations of the companies that they partner with."
Efficiency is paramount
The Ace Paint facility in Chicago Heights was added to the division in 1994. Currently, it houses three packaging lines—a 1-gal, a 5-gal, and the Paint Pod line—that together produce 3.6 million gallons of paint per year. With only 39 employees working one shift per day, "it's a very efficient plant," notes Boyd.
In specifying the Paint Pod line, Ace Paint wanted a system that could match its existing lines in efficiency and automation. "We didn't want a packaging line that was very labor-intensive," confirms Boyd. Other requirements included a speed of at least 50 jars/min, a compact footprint that could fit into the 75' x 15'-space available, and a cost that met Ace Paint's budget.
Quick-changeover was also a factor, Boyd adds, since up to four different paint colors may be run on any given day. According to E-Pak Midwest regional salesperson Dave Scarborough, E-Pak specified a custom-built, eight-head peristaltic pump filler for the line that provides easy cleanout between paint colors. "This was extremely important due to the number of colors Ace provides its customers," he notes. "E-Pak's bottom-close nozzle design also provided a great solution for a product that has a high tendency to drip and string."
Fluid filling
To bring complete Paint Pod manufacturing capabilities in-house, Ace Paint first installed a paint-tinting line that combines a base coat and colorant in a drum that gets rolled over to the packaging line and connected to the E-Pak filler via easy-to-clean tubing.
The packaging process begins when cases of empty, 4.75-oz, polypropylene jars are dumped into a Model NEHCP-48 horizontal compact bottle unscrambler from New England Machinery, Inc. The jars are distributed by Berlin Packaging and are manufactured and two-color silk-screen-printed by Parkway Plastics, Inc.
Once bottles are unscrambled, they are conveyed to the E-Pak filler, which fills eight jars simultaneously. Each filling head is individually adjustable through the use of an Allen-Bradley® MicroLogix 1200 programmable logic controller from Rockwell Automation.
Meanwhile, the caps—70-mm, silver PP, domed screw-cap lids with foil induction liners from Rexam—are sorted through the use of an E-Pak cap-sorting elevator. The elevator, fed by a 8-cu' hopper, sorts and orients caps with the liner facing out and delivers them down a chute to be mated with the filled paint jars. Next, a four-station, in-line spindle-style screw capper, also from E-Pak, uses proprietary technology to apply the caps while minimizing cross-threading.
As jars exit the capper, they are conveyed through an inspect/reject station designed by E-Pak that checks for missing or crooked caps. Jars that do not pass inspection are diverted to a rotary collection table, while the rest continue on through an Enercon Industries Super Seal™ 100 cap sealer that seals the foil liner to the lid of the jar. Immediately following, an E-Pak cap retorquer ensures that lids are sufficiently tightened.
E-Pak's final contribution to the line is a top-and-bottom label applicator, the Series 3 pressure-sensitive labeler from Tronics America, Inc. (www.tronics-us.com). The unit first applies a round label from color-sampling company Colwell Industries to the jar lid. The lacquered label is printed to precisely match the color of the paint inside and includes the paint-color name and product number. A bottom labeler then ink-jet prints and applies a p-s, peel-off label that provides the SKU number, a bar code, the name of the paint color, and the product number.
According to Scarborough, the greatest challenge to the installation was integrating the equipment. "Handing the jar down the line from machine-to-machine sounds simple, but at times it gets very involved. It's not enough that each machine is capable of reaching the goal; the entire system must run smoothly," he says.
The process was facilitated, Scarborough adds, by Ace Paint's mechanical and electrical expertise. "It's obvious that having good people on staff is the key to Ace's success," he says.
End-of-line automation
The Tekkra-supplied side of the paint-packaging line begins with a high-speed, right-angle, servo-driven, shrink-bundling system, the T-220-50, with a pick-and-place pad inserter from MGS Machine. According to Tekkra vice president Eric Vorm, the system marks the first time Tekkra has incorporated a paperboard pad with its shrink bundler.
After jars receive a bottom label, they are conveyed to the integrated bundling system and are collated in groups of three. Meanwhile, the pick-and-place device picks and places a paperboard pad onto a servo indexing conveyor, onto which are pushed the three Paint Pods. The pad and pods are then advanced to the infeed of the bundler, where they are pushed forward and enclosed by a sleeve of film. The film is then spliced, and the bundle moves through the heat chamber for shrinking.
Notes Vorm, the Tekkra system is all-servo-controlled, using Allen-Bradley Kinetix™ integrated motion control with Logix technology, to "provide a smoother operation and the ability to change size parameters electronically."
After being discharged from the shrink tunnel, the Paint Pod 3-packs are conveyed under a Diagraph PA/6000 print-and-apply system with a Sato M-8485Se print engine. The unit applies a p-s label with the lot number, SKU, and product number to the top of the bundle.
Next, the 3-packs are conveyed to a VCP bottom-load vertical case packer from Schneider Packaging Equipment Co. that erects the corrugated cases, packs them with 15 bundles, closes them, and seals them using dual tape heads from Dekka Industries, Inc.
Currently, the automated line ends with another Diagraph PA/6000 labeler that applies p-s labels to both sides of the sealed cases. In the future, the cases will be automatically transferred to a vertical elevator that will carry them to a shipping room where they will be manually palletized.
So far, Boyd says, the Tekkra-supplied equipment is "very efficient." "Tekkra is very advanced as far as their use of technology," he offers. "They use the most up-to-date PLCs and servos."
The price is right
Installed by Ace Paint mechanics and electricians last May, the Paint Pod line has been running since June, with one supervisor operating the line to ensure it meets with the ISO 9000 standards followed by the company. Once best procedures have been developed, Boyd anticipates that two operators will be required to run the line at a speed of 50/min.
In addition to meeting Ace Paint's speed and efficiency requirements, the line also provides the desired ease of changeover, Boyd adds. "The thing I like about the filler is that it is very accurate and compact, and it is easy to clean between runs." Changeover time—which includes washing out the fill tub, rinsing the filler, changing the labels for the top of the jar, and electronically entering the information for the print-and-apply labels—averages about one hour, he estimates.
As for the cost? "It fit into our budget," Boyd relates. "We do everything we can to keep costs down to be competitive.
"When we first entered the sample-jar market and were working with the copacker, significantly longer lead times were required, and batch sizes were limited due to the copacker's capabilities. By tinting and packaging the Paint Pods ourselves, cycle times have been reduced from approximately one month to two days or less. In addition, it has enabled us to produce to the Economic Order Quantity [EOQ] for each of the 180 Paint Pod colors, which has further reduced our inventory and carrying costs."
RELATED ARTICLES: For more, see packworld.com/automation

VIDEO: To view the machinery described in this story, see packworld.com/view-24120
Companies in this article
Videos from Diagraph, An ITW Company
Videos from New England Machinery