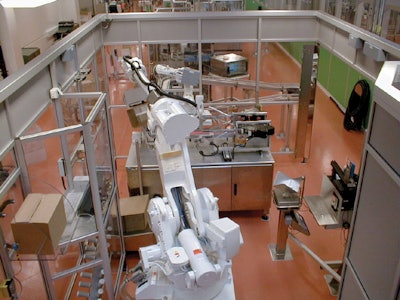 Packaging a blockbuster prescription drug such as AstraZeneca's Nexium demands efficiency. At AstraZeneca's plant in Södertälje, Sweden, nine robotic cells, featuring a mix of 16 robots from ABB Robotics and other suppliers, is providing that efficiency during case packing and palletizing on multiple packaging lines.
These end-of-line robotic systems have helped AstraZeneca grow Nexium, a drug that combats heartburn and acid-reflux disease, into one of the best-selling prescription drugs on the planet. With 2006 sales of $5.1 billion in the United States, Nexium ranks as the second-best seller in the United States, according to IMS Health, a provider of market intelligence to the pharmaceutical and healthcare industries. The robotic equipment has enabled AstraZeneca to maintain high production rates while accommodating varied product packaging requirements.
Nexium represents a more advanced heartburn treatment than AstraZeneca's Losec (or Prilosec), whose patents either have or will expire soon, depending on the country. Although Losec/Prilosec continues to be sold globally, Nexium is protected by several patents. Expiring patents typically result in price pressures from competitive drugs, leading manufacturers to explore new ways to remove costs from the manufacturing process.
Staffan Ternby, AstraZeneca corporate affairs representative in Sweden, notes that Nexium was developed "to be an even better product than Losec, or Prilosec as it's known in the United States. He adds, "We worked for years to create this product."
Packaging complexity challenges
Nexium is produced in a half-dozen countries worldwide. Although Nexium delivers relief to ailing stomachs, packaging the tablets once caused its fair share of headaches. The tablets are moisture-sensitive, so they must be wrapped in a sealed, foil blister-pack. However, the large blisters could get damaged in pockets or handbags. To overcome this problem, the pack was designed to fold over on itself, with the blisters interlocking, within a wraparound, paperboard sleeve. The end result is a wallet-pack that protects the tablets while they are being carried.
Ternby says the Södertälje plant produces "about 12 billion tablets and capsules every year, and is one of the largest tablet manufacturing plants in the world, with patient safety at the top of the agenda."
The need for computerized, robotic packaging lines became apparent by the sheer complexity of the packaging process. The number of tablets per wallet varies according to the market. Some carry as few as three for sampling purposes; other wallets carry up to 14. The wallets themselves are packed into shipping cases, which are then automatically stacked onto pallets.
Some wallets are destined for repackaging in other markets, so they are packed into special cases and palletized. There are dozens of combinations of blister-packs, wallets, and shipping cases. To further complicate matters, each pack is identified with its own unique bar code. Human processing of the complex variety of pack combinations would slow production or necessitate the opening of extra lines. Hence, the need for robots.
Four robotic lines
The Södertälje plant, located south of Stockholm, features four dedicated Nexium lines supplied with turnkey ABB Robotics pack-handling equipment. The basic pharmaceutical ingredients are mixed elsewhere at the site and then formed into tablets. They're transferred to the packaging lines in airtight, stainless-steel containers. From these containers, tablets are fed into blister-packing machinery from Bosch Packaging and Uhlmann. The foil blister-packs are glued, the paperboard wallet is wrapped around the blister, and a sealing label is attached to unitize the wallet. AstraZeneca relies on various global packaging material suppliers for the components. A batch number is printed on each pack and checked by machine vision cameras. Following cartoning, packs are conveyed to the robotic cells where they are placed into either shipping cases or cartons, depending on their market destination.
Each robotic cell consists of two ABB robots: a smaller IRB140, and a larger IRB 4400. The IRB 4400 assembles the shipping cases, moving them for taping, weighing, and printing with a serial number, then places them on pallets. Filled pallets are automatically replaced by a forklift truck. Each Nexium packaging line produces up to 10,000 wallet-packs/hr with minimum human intervention, and the end-packing requirement can be altered rapidly from a central computer.
"Our key requirement for each automated line was to make it as digital as possible," says Lars Siggelin, senior project manager of AstraZeneca's Global Technical Services. "Before this automated handling, switching between the shipping cases was a time-consuming challenge. With different numbers of wallets in the cartons, that meant different sizes of shipping cases and the need to change the handling parts. This solution makes changeover quick and smooth, with no change parts. You just key in the new data, and away it goes."
AstraZeneca's plant made other automated refinements to improve the level of efficiency on the lines. For example, labeling of cartons, once done by hand with preprinted labels, is now accomplished via an ink-jet printer that prints directly onto the case. Part of the printed information is a bar code that's scanned by a bar-code reader. If the information scanned is correct, it is recorded and stored in a central data system for batch information. If there is an irregularity, the robot will remove that case from the line.
"Profitability is a key part of any business, but particularly so in large industries that have demanding investors," says Siggelin. "Making production systems efficient is therefore a vital part of what we do, and it was while we were looking at the Nexium lines that we realized that the existing end-of-line packaging systems were too complicated, and required too many parts and too much setup. We needed an effective solution, rather like our patients need our products."
RELATED ARTICLES: For more, see packworld.com/pharma
VIDEO: To view the machinery described in this story, see packworld.com/view-24094
Companies in this article