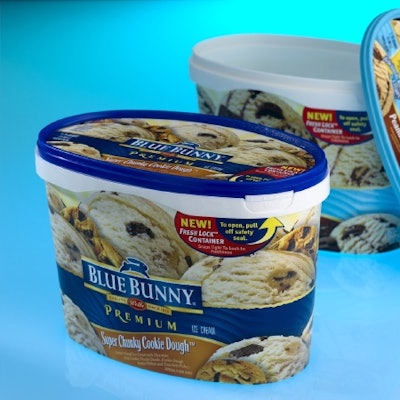 A switch by Wells' Dairy, Inc., Le Mars, IA, to an elliptical in-mold labeled (IML), injection-molded 56-oz polypropylene container has helped make its Blue Bunny brand the U.S.'s fastest growing packaged ice cream in the past year, according to
Information Resources Inc.
( www.us.infores.com) data for a 52-week period into 2007.
"While the ice cream category as a whole has remained flat, consumers have been more willing to try our product because of the innovative packaging," says Wells' Dairy's Lesley Bartholomew, manager, public relations and corporate communications. "Consumers continue to tell us how much they like the new container. Ice cream remains fresher longer and is so much easier to scoop out of this package."
This represents the first U.S. commercial application of
Basell
's (www.basell.com) Pro-fax EP390S high impact PP copolymer (opaque) resin, which can withstand drop impact at freezer temperatures down to -40º F. Previously, food packaging PP grades could only withstand temperatures down to 38º F without cracking or breaking on impact.
Bartholomew says, "The sturdier new package keeps its shape both in and out of the freezer. Its elliptical contour makes it easier to grip and creates less mess when scooping ice cream. The container is also microwaveable, reusable, and 100 percent recyclable."
Like its competitors, Wells' Dairy had been using a traditional round paperboard container with a loose overcap secured by a tamper-evident shrink band. However, it believed that the market was ready for an innovative new direction for ice cream. As a result, the company partnered with several suppliers, including injection-molder
Airlite Plastics Co.
(www.airliteplastics.com).
"Research was done with consumers to verify their acceptance," says Bartholomew. "Consumers told us they were looking for a package which could provide fresher and safer ice cream and a cleaner, easier-to-use and more premium ice cream experience. Wells' Dairy decided to move forward on the project knowing the new container would meet consumer preferences."
Stand-out performer
According to Bartholomew, IML was chosen because it does not separate from the container and is delivered to customers in pristine condition. "Additionally, since the label is printed separately, this enables us to have cutting-edge graphics that help the product stand out on the retail shelf," Bartholomew adds. "You can really see the scoops of ice cream and 'goodies' within it now."
The label, which provides scratch, crack, and wrinkle resistance, is offset-printed in five colors by IML specialists
Verstraete
(www.versteaete.be). Graphics design were provided by
Laga Design
(www.laga.com).
TE tab
The container also features an injection molded tamper-evident lid system,
Fresh Lock
[tm], that snaps tight to lock-in freshness. After filling, the IML lid, which is also made from Basell's Pro-fax EP390S, is snapped into place with a breakaway, tamper-evident tab positioned in a depression molded into the container lip. Instructions state, "To open, pull off safety seal."
"It's a little tab that makes it easy to see if the lid has been removed," Bartholomew points out.
The IML lids are color coded corresponding to the five nationally-available varieties.
Wells' Dairy has a patent pending on the design and functionality of the container. According to Bartholomew, the new container led to lots of production changes, from the filler to the lidder to the case packer plus conveyor handling components.
Available in 52 varieties, the suggested product price is $4.49 to $5.29, the same as with the paperboard containers.
Bartholomew indicates that the new packaging is helping the company gain new markets in the Northeast U.S. that it has not had before. "Retailers were especially receptive to the new container because there is nothing else like it."
The company has also rolled out its Personals line of single-serve ice cream in 8-oz in-mold labeled PP tubs and lids using the same vendors. Offered in limited test in May 2006, the products are shipping in 2007 to all of Blue Bunny's markets. Personals' suggested retail pricing is $1.49 or less. The products' graphics design, which resembles that of the large containers, was done in-house, Bartholomew says.
-Rick Lingle
Companies in this article