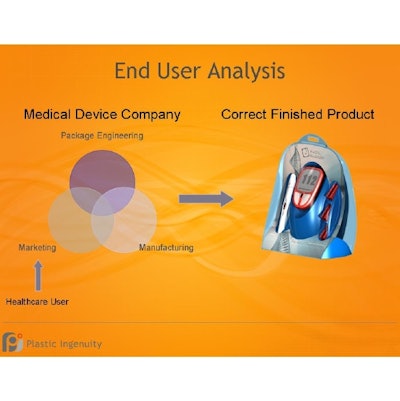 Manufacturers requiring trays to package medical devices rest assured; your input is vital. That was the message from Jason Crosby, medical business manager for thermoformer
Plastic Ingenuity
(www.plasticingenuity.com).
Crosby's comments came at a conference session Feb. 15 at the Anaheim Convention Center during the
Medical Device & Manufacturing
(MD&M) West show. During his presentation, "Basics of Pre-Made Tray Design for a Sterile Medical Package," Crosby said, "a device maker's goal is to supply a safe product to patients."
When it comes to developing trays for these devices, Crosby said, "end-user analysis is the key at the beginning of the tray development process. That analysis involves package engineering, manufacturing, and marketing. The device maker needs to discuss material selection, sterilization method, product weight, how the trays will be denested, package clarity requirements, unique material requirements, moisture vapor transmission rates, oxygen transmission rates, ultraviolet concerns, temperature extremes, material specifications, environmental requirements, and cost considerations. Device companies need to understand the entire distribution environment."
Crosby offered a list of tips for device makers to consider regarding trays. They included the following: ease of storage, pulling from a storage location, and counting and opening; product orientation after opening; package recognition; how the pack/product is presented to the sterile field; cost of disposal; ability to see the product in the package; finger holes for the nurse to remove the product from pack; shelf space; snapping features to hold the part in place; and stacking ability."
Once the device maker has thoroughly analyzed its tray needs, Crosby says the thermoformer can then begin its processes, which include tray design, prototyping, mold development, sheet extrusion, thermoforming, and shipping trays to the customer.
Companies in this article