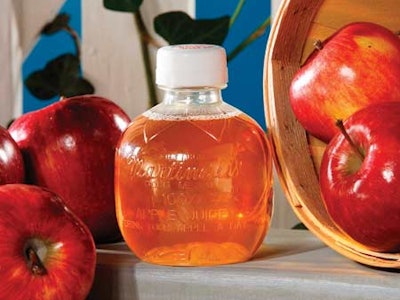 Plastic closures are supplied by O-I (www.o-i.com).
Martinelli wanted a hot-fillable, panel-less, label-free container with barrier properties. The challenge for plastic container supplier Graham was to maintain the shape of the bottle when the hot-filled juice cooled inside the container. The challenge was met by using liquid-nitrogen dosing into the filled container head space.
The liquid nitrogen converts to a gaseous state inside the bottles and serves to resist bottle deformation by exerting pressure against the internal container sidewalls. Liquid-nitrogen injection also extends shelf life by flushing out oxygen. The equipment for this process is manufactured by Cryotech International/ VBS (www.cryotechinternational.com).
Introduced in December 2005/January 2006, the new PET bottles are making their way from West Coast markets to distribution areas in the Midwest and East Coast. S. John Martinelli, VP and GM of Martinelli's, says, "The clear, apple-shaped bottle tells the consumer that this is a 100-percent natural product. The package visually reinforces the fact that Martinelli's award-winning apple juices are made from fresh apples only, with no additives of any kind."
—Judy Rice
PET bottles (in millions of units)

Category			2003		2004		Growth %

Beer			178.1		208.5		17.1%

Bottled water		14궢.8		16걡.5		11.6%

Liquor			100.3		109.2		8.9%

Food and vegetable juice	7꼰.6		8걣.4		3.6%

Carbonated soft drinks	25깂.6		25꼢.8		0.9%

Wine			0.2		0.2		0

Total			48겜.6		50굽.6		4.6%
Companies in this article