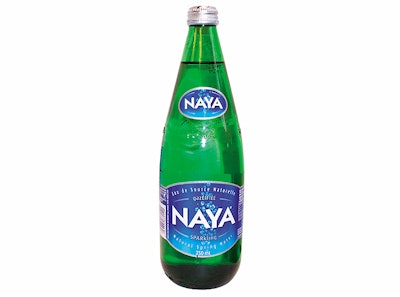 The carbonated, cold-filled waters are packaged in green-tinted glass bottles supplied by O-I with aluminum roll-on closures from Silgan. The 51-lb, wet-strength paper labels come from Renaissance Mark.
Bottle sizes include 355-mL, available singly or in four-packs, and 750-mL single bottles. Average retail price for the 750-mL water is C$1.49.
This bottled water launch is significant from a packaging perspective in that Danone Naya snubbed the growing popularity of plastic bottles in favor of glass. Danone is seeking to capitalize on the purity and quality perceptions many consumers associate with glass packaging. The company also emphasizes the recyclability of glass, appealing to environmentally concerned consumers.
Companies in this article