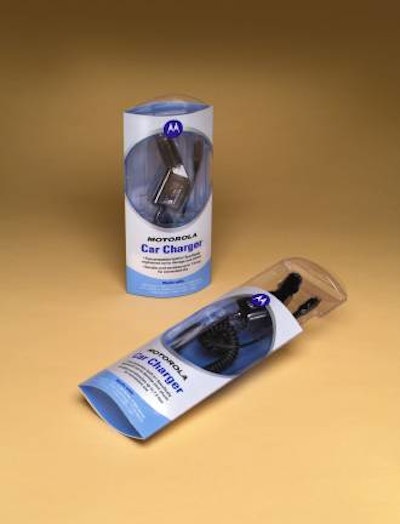 The Schaumburg, IL-based firm got what it wanted from the InSight Slider™ package, which combines a fold-over thermoformed tray slid inside a printed sleeve. The package recently was named an AmeriStar award winner in the Institute of Packaging Professionals' 2004 awards competition.
"We felt that a printed, transparent package would be unique for this product category and would allow buyers to see the accessories inside prior to purchase," says Keith O'Connell, senior packaging engineer for Motorola.
Supplied by AGI Klearfold, both the 12-mil sleeve and 25-mil thermoform are made of polyvinyl chloride. The Motorola line comprises four different accessories. AGI Klearfold makes two different fold-over trays, with each tray designed for two different accessories, the left half for one and the right half for another. Four different sleeves are provided, one for each of the four accessories. Printing is done flexo in nine colors plus rotary screen printing in one color, all in a single pass.
To assemble a package, a slot molded into the side of each thermoform connects with an extended tab inside each sleeve. Once the tray is folded over and slid into a sleeve, the sleeve's tab locks into the slot in the tray to hold the fold-over tray closed. Because the trays are formed to the shape of each accessory, potentially damaging product movement inside the package is prevented.
The locking tray mechanism secures the product with no need for RF, sonic, or thermal sealing that many clamshell packs rely on. Also separating the package from the clamshell crowd is that it opens easily thanks to a zipper perforation along one side of the package. —Pat Reynolds
Companies in this article