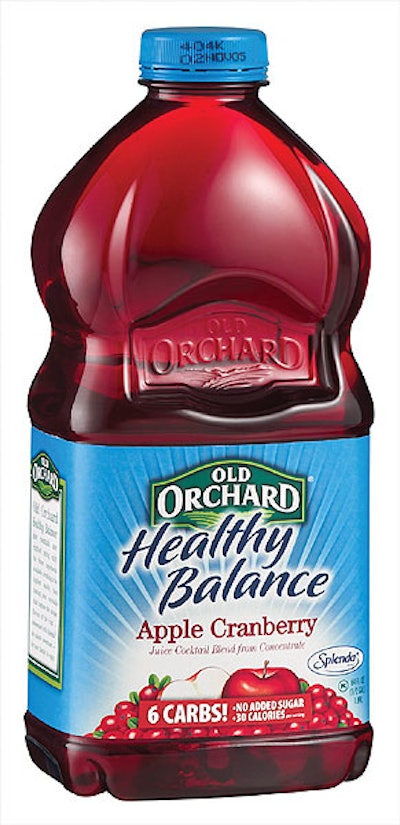 A recent switch from round to rectangular hot-fill PET bottles at Old Orchard Brands brought about the installation of a new filling line that relies partly on machine redundancy to maximize throughput. Also notable is a bottle-cooler infeed system uniquely designed to minimize back pressure. Benefits of the patent-pending cooling system include:
• elimination of hot-bottle denting,
• light-weighting of PET bottles,
• maximized bottle throughput due to improved cooler space utilization and a dramatic reduction in downed bottles.
Old Orchard is among the first to adopt the ICwedge cooler infeed, which is made by Industrial Consortium. The switch from round to rectangular bottles-in both 64- and 128-oz sizes-helped push Old Orchard to adopt the new cooler infeed.
"Retailer preference for a bottle shape that permits twenty percent more bottles to fit on the shelf is what led us to the rectangular bottle," says Greg Mangione, director of manufacturing at the Sparta, MI, firm. "The only problem is that the rectangular shape makes the bottles want to bridge at the cooler infeed. Not only does that create the possibility for bottle denting, it also causes downed bottles. With the ICwedge in the picture, all that backpressure is gone, so denting and downed bottles are no longer a problem."
Installation of the innovative bottle cooler was just the beginning of some serious upgrading at Old Orchard. Growing demand for Old Orchard fruit juices—it's one of the fastest-growing juice companies in the country—required greater output on more modern equipment. Plus the shape of the new bottle meant existing equipment used for the round container was anything but optimal. So a new line was installed a few months after the October, 2003, installation of the ICwedge cooler. Size of machine footprint was a high priority as the line was designed.
"The packaging room only measures about 210 by 80 feet," observes Mangione. "Yet we exceed 40ꯠ cases of 64-oz bottles a day."
Equipment for depalletizing, (Busse), palletizing (Columbia), and pallet stretch wrapping (Orion) is all nearly a football field away out in the warehouse. All three systems were retained from the previous packaging line used for the round bottle. By moving them to their remote location, Mangione freed up precious space in the packaging area. Overhead tabletop chain conveyors from Change Parts and Precise Manufacturing carry empty bottles from the depalletizer to the filler. In the opposite direction, overhead roller conveyors, from ACSI, take full cases to the palletizer.
Filling begins
Lowering empty bottles to floor level is a task performed by an I&H lowerator from Fleetwood. It feeds into a 42-nozzle Fogg filler integrated with a 14-head Fogg rotary capper. The filler incorporates an ionized air-rinse function and has a bottle turner that puts all bottles in a wide-side-leading orientation. This results in the tightest bottle pitch and, consequently, a smaller circumference on the filling machine.
Filled bottles are capped with a 43-mm Ultima™ closure with breakaway TE band. Injection molded by Silgan Plastics, the closure is made of a proprietary polypropylene copolymer to give it more flexibility than most standard injection-molded PP closures. This permits application without the need for a steam treatment, which some caps need to first soften the TE band before the cap will fit over the bottle finish. Mangione appreciates no longer having to steam-soften the closures. "The steam is hard on the equipment," he says.
Next in line is a Bevco lay-down sterilizer that lets the 180°F beverage sterilize the cap. A Silgan vision system inspects cocked caps, and then a Domino Amjet laser coder etches date and lot code on the shoulder. Immediately after, a Videojet ink-jet coder marks the closure with the same information. This kind of redundancy is a frequently repeated characteristic of the line. It shows up again in case erecting, case packing, and case taping.
Bottles now are conveyed toward an I&H cooler from Fleetwood, another holdover from the previous packaging line. But where bottles used to be crowd-fed into the cooler, they're now guided in under the firm control of the ICwedge system. It's a continuous-motion, low-backpressure, single-file-to-mass-flow transfer system that uses three 12'-long wedge-shaped devices made of UHMW polyethylene and mounted on a 36' belt to form and gently transfer rows of containers 30 at a time into the mass-flow cooler. While transferring one row of 30 bottles into the belt conveyor of the cooler, it is forming the next row of 30. (Be sure to go to www.packworld.tv/65 to view the video footage of this system.)
Unlike the crowd-feed approach typically found in such lines, this method keeps bottles in control and doesn't give them an opportunity to fall over. Moreover, it's gentle enough to keep bottles from slamming into each other and causing dents in the plastic, which is softened by the 180° F juice inside.
Because the bottles don't have to withstand as much stress, Old Orchard was able to trim 2 g from the weight of the bottle, which now tips the scales at a svelte 73 g. "That brings a significant savings over millions and millions of bottles," says Mangione.
Accumulation space
Exiting the cooler, bottles are conveyed past a bi-directional I&H accumulation table that is pressed into service if downstream equipment goes down. An Arrowhead bottle orienter/single filer uses nine 31¼4" chains that run at progressively faster speeds from outside to inside. This converts the mass flow of bottles to a single lane of bottles—all narrow-side leading—leaning against an inside conveyor rail. This is the orientation required by the Krones 15-station Canmatic labeler, which applies full-wrap cut labels to the 64-oz bottles. The 128-oz bottles have in-mold labels, so the labeler is bypassed when this large bottle is being filled.
Supplied by Hammer Litho, the oriented polypropylene labels on the 64-oz bottles are printed offset in eight colors. Mangione says the full-wrap label is an improvement over the front-and-back labels used formerly on the round, pinch-grip bottle because now the bottles can face either way on the store shelf.
Bottles discharge from the labeler and run past three Wexxar case erectors that set up bliss style cases—die-cut body plus two ends, no minor flaps—for the bottles. As with the bottle-coding equipment, the case erectors were installed with redundancy as a goal, says Mangione.
"Downstream," he explains, "the two case packers run at a combined speed of more than 50 cases/min, and two case erectors are perfectly capable of handling that. The third case erector only kicks in if one of the other two goes down."
As cases discharge from the erectors, they fall on the same conveyor belt. But soon that single file must be split in two so that both case packers can be fed.
"To split the single-filed cases we use a new kind of conveyor section," says Mangione, who adds that it was made by Nercon with design input from conveyor belt maker Intralox as well as Industrial Consortium.
The case diverter consists of an Intralox Series 400 transverse roller-top conveyor that steers freshly set-up cases straight ahead to case packer A. If case packer B is starved for cases, a photocell detects that condition and signals it to the Rockwell Automation ControLogix controller that governs the entire line. The controller then signals the Nercon system, where a pneumatic actuator causes an angled roller-top conveyor to engage, thus diverting cases to case packer B. When a signal is sent to disengage the pneumatic actuator, cases are steered again to case packer A.
Vertical accumulation
A key piece of accumulation equipment, the Dynac 6400 from Hartness, sits near the three case erectors. If the case packers are not ready to receive bottles, they're automatically diverted into this first-in/first-out system. Because it stores bottles vertically, it's especially suitable for this relatively space-starved Old Orchard line.
"It gives us about three minutes worth of accumulation," says Mangione. "That's really about all you need in a line like this. If the downstream equipment goes down for longer than that, it isn't accumulation space you need, it's maintenance or repair."
Regardless of whether bottles emerge from the Dynac system or simply sail right by it, they move next through a Krones "roof-top" lane divider. Basically a stainless steel tabletop chain conveyor, it's flat at first but then slants left and right so as to form what looks like the peak of a roof-top running down the middle. Just ahead of the peak, actuators driven by pneumatic cylinders gently nudge each bottle down one side of the peak or the other. The bottles then nestle against guide rails leading to an infeed conveyor for either case packer A or case packer B. Sensors downstream signal which case packer needs bottles, and this information makes its way back to the Krones lane divider.
Both case packers are from Hamrick. The use of side-by-side case packers is another example of the redundancy that characterizes the line.
"We fill the 64-oz bottles at 280 per minute, so typically the case packers each handle about 140 bottles per minute," says Mangione. "But if one case packer goes down, we can speed the other one up to 250 bottles per minute, so there wouldn't be much of a drop-off in capacity."
After Marsh PatrionPlus™ ink-jet coders from Videojet put date and lot code on each case, the cases merge onto a single conveyor leading to a Ryson spiral conveyor that takes cases to a mezzanine level and side-by-side case tapers.
"If one taper runs out of tape or goes down for any reason, cases are automatically directed into the one that's running," says Mangione. "A warning light alerts the operator downstairs to attend to the down taper, but there's no need to slow the machine."
Taped cases are conveyed nearly 200' on an ACSI overhead conveyor to the Columbia palletizer, which in turn feeds the Orion stretch wrapper. "It's another stretch of accumulation that gives us about two minutes if we need it," says Mangione.
Standing in the warehouse surrounded by pallet loads of cases ready to be shipped, Mangione is clearly pleased by how efficiently the new line performs. "We shut down the plant for 10 days right after New Years 2004, and that's when the new equipment and revised line configuration went in," he says. "It was a busy 10 days."
See sidebar to this article: Controller brings synchronization
Companies in this article
Videos from Nercon Conveyor Systems