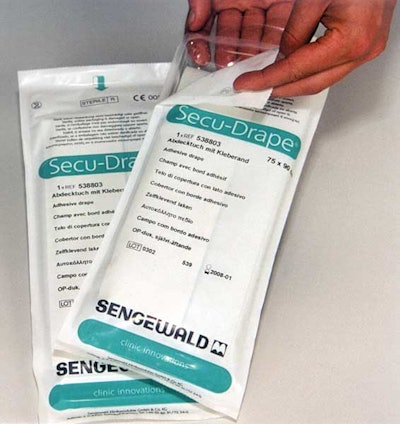 Last year, Sengewald Klinikprodukte GmbH & Co. KG, a manufacturer of surgical drapes and gowns, began to improve its packaging material for commercial shipments of its thermoformed/
filled/sealed sterile medical products with a new top film web from Rollprint Packaging Products that delivers a bevy of benefits compared to a previous structure. Among the benefits are better peel properties, appearance, handling, and tear resistance.
Sengewald had used a top web of coated special medical paper and a bottom web of nylon-polyethylene peel film. The paper web didn't provide the tear resistance sought by the Rohrdorf, Bavaria, Germany-based firm.
"We had the goal of replacing the paper web with film [to gain] the necessary properties," says Wolfgang Spindler, research and development manager at Sengewald. "We wanted better peel properties, more comfortable handling, and puncture and tear resistance.
"This new packaging [also had to] have a high break strength and be extremely elastic," he says. "A critical requirement was [that it had to have] great puncture resistance, as well as an attractive appearance. The peel 'behavior' should be even, and the film must not break during the peel process," adds Spindler.
Enter the solution
Sengewald sought a solution through a previously announced strategic partnership with Rollprint and Pactiv's "sister" company Kobusch-Sengewald, in Germany.
Sengewald Klinikprodukte elected to use Rollprint's new high-density polyethylene Allegro®T coextruded top web. The peelable 3.5-mil coextruded blown film consists of two layers of white HDPE, plus a thin sealant layer that employs a proprietary easy-peel sealant technology.
According to Rollprint, the sealant is a unique polymer blend engineered to provide a smooth, consistent peel. The transfer of the peelable film to the bottom web leaves a bright white indicator that gives the end user visual confirmation of package seal integrity.
During the blown-film coextrusion process, the resin blend of the peel layer bonds to the white HDPE layer, making possible the single-step coextruded film. The resulting all-plastic construction, says Rollprint, provides better puncture and tear resistance than the former paper-polyethylene top web, while eliminating the possibility of paper fiber contamination.
"No new machinery was necessary, and now we have a package with only plastic materials, which is an additional benefit," says Spindler. Products are filled and heat sealed at Rohrdorf on as many as 10 different tf/f/s machines. Seal tests are conducted as part of the company's quality control process.
Bottom web also benefits
The redesign of the top web meant it was no longer necessary for the bottom web to carry the peel function. That eliminated the multistep manufacturing of the previous bottom web.
For its current bottom web, Sengewald now uses a coextruded nylon-PE forming web from Kobusch-Sengewald that retains the thermoforming and durability characteristics of the previous bottom web. The new bottom web helps achieve cost savings because it can be manufactured in a single step utilizing in-house equipment at Kobusch-Sengewald.
Not only does the new all-film package offer fiber-free peeling and improved durability, the HDPE-AllegroT top web is more accommodating to graphics with its smooth, opaque white surface.
"Paper has a rough surface," notes Spindler. "When you print on it, you don't typically get sharp print edges. Printing on film, however, [with its] brighter surface, [creates] a more brilliant white. The print looks much sharper, and we get a 'cleaner' impression." He says the film is flexo-printed with a corporate design and user information.
Sengewald uses the film structure exclusively for packaging medical products that are sterilized by irradiation. Spindler says irradiation is used because it provides cost savings, shorter delivery time, and faster processing than ethylene oxide (Eto) gas. The irradiation process is done with shipping cases by outside firms, not by Sengewald.
"We have gotten positive feedback from our customers since its commercial introduction in May 2003," says Spindler of the medical products sold primarily in Europe. The new package "looks better, and the print is better. The peel itself is very soft and smooth. It looks good and functions well in the operating room environment.
"These facts mean that this film, in combination with a non-peelable bottom film, offers an alternative to the coated paper we had used and [is also interesting] with regard to the price," he concluded. —JB
Companies in this article