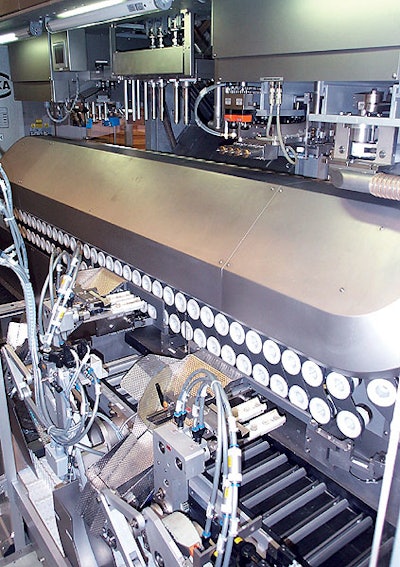 If throughput on your toothpaste packaging lines is constrained and flexibility lacking, what do you do? If you're Procter & Gamble and you're analyzing tube-filling capabilities at your plant in Gross Gerau, Germany, you launch Project Front Door.
"It's like opening a door to a new era of production efficiency by adding flexibility, rapid changeover, and higher speeds," says process engineer Bjorn Kinze.
Emerging from Project Front Door was a new tube-filling line, running at Gross Gerau since May, that is powered largely by servo technology. For example, tube filling, cartoning, bundling, and case packing on the new line are done by four machines whose motors, all 54 of them, are all servo motors supplied by Elau.
Most impressive is the tube filler, an IWKA Model TFS-80-4. It has 29 servo motors and as many complementary drives, also from Elau. Controlling all the tube picking, loading, orienting, filling, heating, sealing, and discharging that is executed by these motors are two Elau PacDrive controllers, each capable of governing motion, logic, and HMI. Connecting each controller to its assigned servo drives is a SERCOS fiber optic network.
According to Elau, a single PacDrive controller on the TFS-80-4 would actually suffice. But early in the machine's design phase, IWKA engineers decided to use two controllers to ensure maximum performance. Each controller is in charge of half the machine's axes of motion.
Objective accomplished
A key objective of Project Front Door was high-speed filling. The IWKA TFS-80-4 delivers, though P&G declines to quantify.
"We run almost twice as many tubes per minute on this system compared to the older lines here in this plant," says P&G maintenance supervisor Thorsten May. The older fillers are all controlled by a conventional PLC and rely on a mechanical drive/clutch/
brake approach; the only servo motors involved are the two that are used to orient the tube.
Benefits gained from the new filler go far beyond increased speed, says May, as changeover is greatly improved, too.
IWKA, which built the TFS-80 tube filling series in direct response to customer demand, is just as pleased as P&G with its latest foray into servo-drive technology.
"The flexibility gained is tremendous," says Axel Augenstein, key accounts manager at IWKA. "In older tube fillers that were fundamentally mechanical in nature, you had to change mechanical cams when changing to a new tube size or product formula. With a servo-based system, you store product formats in the controller and select them from a menu displayed on the HMI screen. The filler then automatically adjusts to the new cam profile."
"A changeover may or may not include change parts," says Kinze. "But either way, we do it in record time. It permits us to change when the market tells us, not when our equipment will allow us to." Changeovers typically are either from one flavor to another or from a 50-mL (1.7-oz) to a 125-mL (4.23-oz) tube.
One boost to changeover is the use of a second set of product-contact parts with quick-disconnect features. When these parts must be changed, the second set is ready to be installed. The parts that are removed all fit on a rack that is wheeled into a washing machine. "It's faster than clean-in-place," says Augenstein.
According to Augenstein, IWKA engineers had a number of key requirements as they evaluated available controls packages for this new breed of filler. One requirement was that the controls system be capable of changing cam profiles quickly and automatically not only when changing from one standard product format to another, but also on the fly, while product was running. That way, if humidity or temperature or product viscosity or any number of other variables should somehow cause product to flow differently than it's supposed to in one of the standard configurations, P&G operators/technicians can take corrective action by tweaking electronic cam profiles at the HMI screen even as tubes are being filled.
Elau's servo drive and controls package meets this change-on-the-fly requirement, says Augenstein. Leif Juergensen, end user marketing manager at Elau, explains how a combination of centralized control and distributed intelligence is what makes changing on the fly possible.
"In this controls package, the cam profiles are stored in the central controller as mathematical functions. Each time new position setpoints are required, the system calculates these online and transfers them to the drives. So positioning is generated centrally while calculation of speed and current loops is done by the intelligent drives. When tweaking the cam profile, no download or other manipulation on the drives is required. The SERCOS connection between controller and drive is a real-time bus, and if you try to send too much information over that bus, it runs out of band width. This combination of centralized control and distributed intelligence is what keeps the SERCOS bus open enough to permit changing cam profiles on the fly.
"Keep in mind, though, that it only works if the drive is sufficiently smart. To the OEM or end user, the drive won't seem all that smart, because it has no software in it or parameters to set up. All of its intelligence is in its firmware."
Just ahead of the tube filler and connected with it via the same Profibus network that permits information exchange up and down the entire line is an ABB robot equipped with six servo motor/drive combinations. Servos in this case are sourced by ABB. Responsible for picking tubes from corrugated shippers and placing them into the tube transport system on the IWKA machine, the ABB robot receives digital signals from one of the PacDrive controllers in the IWKA filler.
Servo technology in action
Watching the tubes make their way into and out of the TFS-80 is a powerful illustration of the speed, positioning accuracy, and overall synchronicity that servo technology can bring to a packaging machine. The tubes are arranged ten across—caps on, open bottoms facing up—in corrugated boxes. Picking is done 20 at a time for the 50-mL toothpaste tube that was being filled on the day of PW's visit. The servo motor that feeds the box of tubes into the pick station moves the box forward precisely two tube rows at a time so that the end effector on the ABB robot can pick precisely 20 tubes, swing over to the pocketed tube transport system in the filler, insert the tubes into the pockets of the transport system, and swing back to the box of empty tubes for another two rows of tubes. Positioning accuracy is critical at both ends of the robot's picking cycle.
More servo-driven actuation unfolds once tubes are in the filling system: tubes are pressed firmly into their individual pockets; tubes are oriented so that sidewall graphics are properly aligned when crimping occurs; four tubes are pushed up to meet the four fill nozzles; nozzles dispense product; tubes are crimped closed; tube bottoms are trimmed; and finished tubes are released two at a time through a twin-discharge station into a flighted conveyor that leads to the cartoner.
The positioning accuracy inherent in servo-driven technology is uniquely suited to a product like toothpaste, which has a viscosity that makes it difficult to handle because it tends to "string out" when the nozzle tooling closes, thus interfering with a clean, secure seal. The sequence of actions on the dosing valves in the IWKA filler is designed for a clean seal in spite of the product's hard-to-handle characteristics.
Sensors ahead of the tube-filling station detect if a tube is damaged or out of round. That data travels to the PacDrive controller, which tells the appropriate filling nozzle not to dispense product. The information is also sent to a Festo pneumatic device downstream that kicks the empty tube off the line just ahead of the cartoner.
Another all-servo-driven machine from IWKA, the Model SC3HS cartoner sits just downstream from the filler. In this machine, only 6 servo motor/drive combinations are required. Like the PacDrive controller that controls them, they're again supplied by Elau.
Rotary, as opposed to reciprocating, tools tuck carton flaps, which makes the machine capable of speeds to 600/min.
Following a Garvens checkweigher and a pair of Sick sensors that flag poorly closed cartons for rejection, a Pester bundler is next. A PacDrive controller and 13 Elau servos are used for axes of motion that include pushing, upstacking, wrapping, sealing, and discharging. Once again, the Profibus network that ties individual pieces of equipment together plays an important role in keeping the bundler synchronized with the upstream equipment on the line.
"At speeds this high, you need to change the roll of film quite frequently on the bundler," says Augenstein. "Even with the auto splice feature, you still have to reject the film where the spliced area is, and this takes time. While this is happening, you don't want a backup of cartons on the infeed belt. So the Pester machine sends a signal upstream that says, in effect, 'I will have a splice in x number of cycles, so do not feed fresh tubes into the filler for y number of cycles.'"
Case packing is done on a Pester system with eight axes of Elau-supplied servo-driven motion and control. Following a Markem 5000 Series ink-jet coder, a Pester PAC six-axis robotic palletizer with a Kuka robot brings the impressive line to a close.
"Higher throughput, faster changeover, increased productivity," says P&G's May. "Those were the goals of Project Front Door."
With a boost from the latest in servo technology, those goals have been accomplished.
Companies in this article
Videos from METTLER TOLEDO Product Inspection