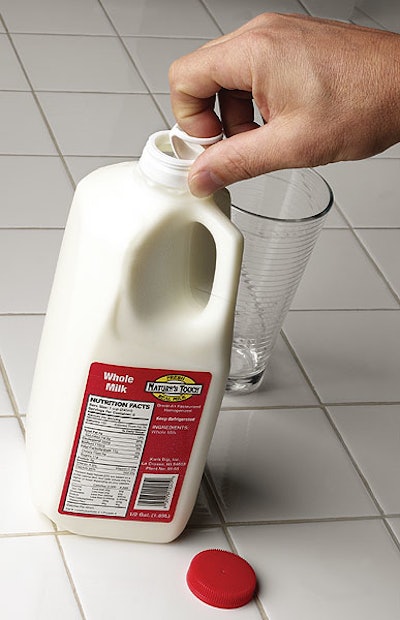 The company had been using standard 38-mm high-density polyethylene snap-on/screw-off closures for its 1¼2-gal HDPE dairy bottles, but management was not fully satisfied with the capping performance. According to Kwik Trip's director of dairy operations Rich Carr, "The caps were relatively difficult to apply, and the seals were inconsistent. We were encountering some leakers, and that's unacceptable."
Carr and his team considered foil induction inner seals to achieve better consistency of closure integrity. Then they met with capping experts from Portola Packaging. After initial discussions, the companies decided to work together to develop a prototype screw cap that incorporated a built-in, inner pull-ring plastic seal membrane. The development project kicked off in March 2004.
"The consumer unscrews and removes the overcap," says Carr. "The cap housing releases while the inner pull-ring seal membrane stays in place on the bottle mouth. The consumer then pulls the ring (shown) to remove the seal. This cap gives us better seals and better tamper evidence. It costs slightly less than the foil induction seal option, and we didn't have to purchase any special sealing equipment to start using it on our half-gallon bottles. The membrane component is molded right into the cap, and it adapted well to our existing capping equipment with only minor adjustments."
Kwik Trip surveys show that 80% of consumers also prefer the new cap style. The survey found that consumers feel product capped in this way is fresher. Consequently, Kwik Trip is installing and starting up a new Portola capper in October to handle both 1¼2-gal and 1-gal HDPE bottles. The capper offers easy changeover flexibility, providing Kwik Trip the opportunity to convert 1-qt, 1-pt, 20-oz, and 1¼2-pt PET bottles to the new cap style at a later date.
Capping speeds are not affected by the conversion to the new cap style. Kwik Trip normally runs 1¼2-gal bottles at 80/min and 1-gal bottles at 55/min because that's the filler speed. Carr says, "If we decide to upgrade our filling operations, the new capper could accommodate faster speeds. We are very pleased with the Portola caps and capping equipment. Our teams have worked well together to achieve the changeover."
Companies in this article