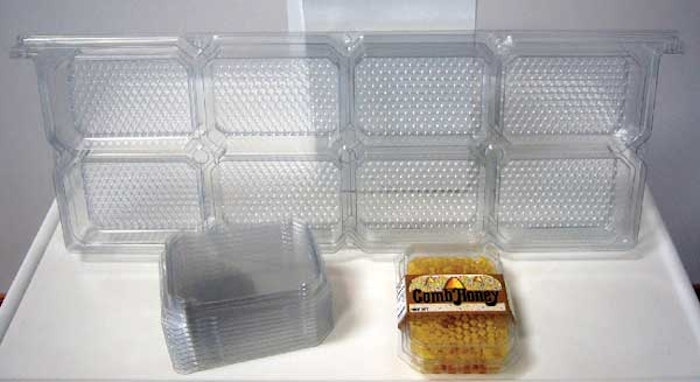 Made of clear, food-grade amorphous PET, the trays are said by Bee-O-Sphere designer and president Ian Bigham to provide beekeepers with a ready-to-sell, high-value-added product that's less costly and labor-intensive than competitive products. The filled trays are also appealing to consumers.
The trays are thermoformed by Shepherd from 20-mil APET sheet from the Petco Div. of the Lavergne Group, acquired in May by Klöckner Pentaplast. Bigham says thermoforming APET yields trays with smoother surfaces and rounded corners preferred by bees versus injection-molded polystyrene trays.
The trays are thermoformed as left-and-right hand sheets of trays, each sheet in a 4x2 pattern of connected trays. The two sheets are placed back to back cavity-side outward into the hive and can be packed eight sets—or 128 trays—per hive. Buttons on the top fit into matching holes to act as spacers between rows of tray sheets. That's when the bees take over. After filling, which may take a week or months to complete depending on conditions, the sheets are removed from the hive and separated.
Each tray yields close to 4 oz of honeycomb and measures 3''x 41¼2'' x 3¼4'' and has a concave honeycomb pattern thermoformed in the bottom that gives the bees a starting point for the honeycomb. Filled trays are readied for sale by beekeepers after they snap on a clear lid with a finger-tab corner, also thermoformed by Shepherd from Klöckner-supplied APET sheet. A label is optional. —RL
See the story that goes with this sidebar: 2004 DuPont Award Winners
Companies in this article