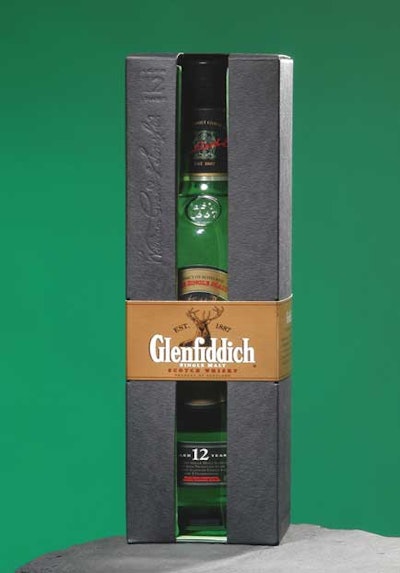 True to the independent spirit of the brand, its innovative package design was said to challenge convention.
Field Group, part of the Chesapeake Corp., produced the carton, working closely with agency Enterprise IG to design the pack. To make sure the distinctive Glenfiddich bottle would be visible, a rectangular strip was cut vertically from the front and back of the carton. James Cropper Specialty Papers supplied the special matte black Accent Fresco Ebony carton board. The board was debossed with Glenfiddich founder William Grant's signature and the wording "Aged 12 years," and "Special Reserve." The bottle was held in place by a vacuum-formed plastic insert. A paperboard sleeve wrapped around the pack. It was litho-printed in six colors, varnished, and embossed by Field Group.
Glenfiddich was bottled at the Dufftown distillery and hand-packed into the cartons. "There were a tremendous [number of packaging] components," admits Andrew Nash, the company's international brand manager. "However, there was a single carton size and vacuum-formed insert that accommodated four different bottle formats," which he says offered significant savings. The four varieties were 70- and 75-cL bottles with either plastic screw-on closures, or nonreturnable plastic closures.
The cocooned packages were sold in Europe, Australia, Canada, South America, and Latin America, says Nash. Suggested retail price was £22.99 (US$42.21).
Nash says customers "mostly loved it, saying how innovative it was. It caught both consumers' and retailers' imagination, and showed that there is room for innovation in single-malt whisky packaging."
Companies in this article