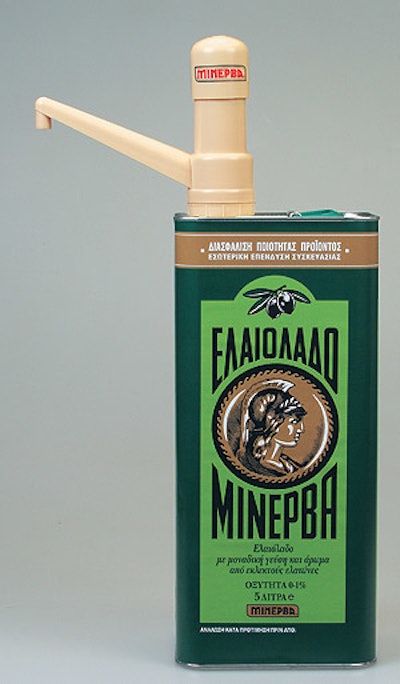 Said to be the first dispensing system for olive oil in the European market, the pump is an adaptation of the Englass FND30 from Rieke Packaging Systems in England.
To use the pump, Rieke designed a unique collar closure that enables the pump to be attached to the flexible spout in the Minerva tin. The spout's 28-mm opening is 10-mm narrower than usually required for the pump. The dispenser provides a measured 30-mL dose, and comes with a special anti-drain-back valve that retains oil in the pump so it doesn't require priming after the initial use. An anti-drip insert is supplied in the nozzle.
Consumer research by Minerva revealed the need for a user-friendly means of dispensing oil from 5-L cans. Zanas worked with Rieke to provide the dispenser that's made in a cream color with Minerva's logo printed in red.
Minerva launched the tin and dispenser as a special promotional pack, backed by television and print advertising and in-store demonstrations. "Thanks to Rieke Packaging Systems, we were able to develop a unique dispensing solution with real consumer benefits," says Giannis Bouras, Minerva brand manager. "It enhances the overall image of the Minerva brand. And because the dispenser can be reused, this helps to build brand loyalty."
Offered as a premium at no extra cost, the pump was packed in a sanitary box that was shrink-wrapped to the 5-L tin. According to Bouras, the company sold the equivalent of 40-days supply in just 25 days during the promotion, and the company's market share has nearly doubled to 23% of the 5-L olive oil market.
Companies in this article