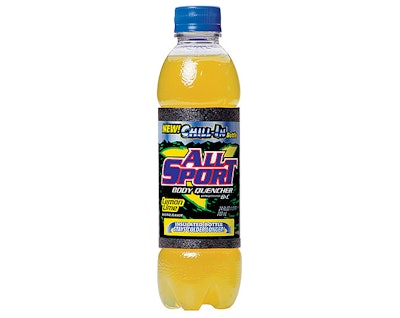 The custom blow-molded bottles feature a sleeve wrap of ¼''-thick polyethylene foam that acts as an insulator to keep the beverages cooler longer.
"[This is] a unique package design with a useful new feature," says Jim Hoagland, vice president of marketing. "People used insulating sleeves all the time to keep drinks cool. We just built one into the bottle. We believe our new design will make All-Sport more refreshing than ever." Sleeved and labeled bottles—and licensing rights in the sports drink category—are provided by Kool Jacket™ LLC.
The patented PET bottles incorporate a pinched-in body to accommodate the sleeve. The bottles are cold-filled and capped at a Pepsi bottler in the Chicago area. The Chill-In bottles debut in two versions, either with a 38-mm reclosable screw cap or a push-pull sports cap, and in four of the most popular All-Sport flavors. The suggested pricing on the 24-oz Chill-In size averages $1.09 while the 32-oz size sells for around $1.39.
Monarch vice president of operations Eileen Langford says trial runs were made using pressure-sensitive labels around the foam sleeves. Those have since been replaced by more cost-effective glued labels flexo-printed in six colors by Industrial Print & Label using a 2-mil, two-layer adhesive lamination of biaxially oriented polypropylene. Monarch claims that the entire package can be recycled.
Companies in this article