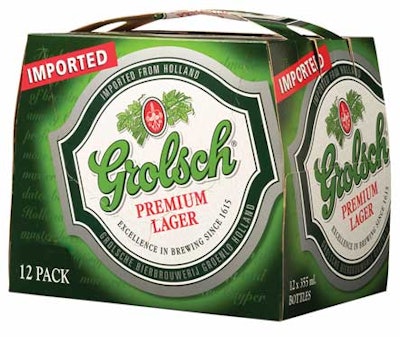 The new carton is called the euroset®-Safecon from A&R Carton in Bremen, Germany.
Made of 20-pt solid unbleached wet-strength kraft paper, the new carton replaces a corrugated box called the "battery box" that could absorb moisture in refrigerated display cases, says Steve Middelhoff, marketing manager of United States Beverage, Stamford, CT, importer of Grolsch for the United States. The wet-strength paper resists moisture.
But the key feature to the new package, for which A&R Carton has applied for patents, is the innovative strong handle that's anchored to the sides of the package, Middelhoff says. The new Grolsch carton is printed offset in five colors, says Susanne Zweibrück, marketing assistant at A&R.
Although Grolsch beer is best known for what it calls its Swingtop cage closure, the new package is for crown-sealed, 12-oz one-way bottles. "This bottle in a 12-pack is the fastest-growing package in the U.S.," Middelhoff says. "We sell about 80 percent of our volume in crowns, and most of that is in 12-packs. Sales of 12-packs of crown-topped bottles grew by 10.2 percent last year." He calls that pretty strong growth in what has been a relatively flat beer market.
The euroset-Safecon is a single-piece wraparound carrier for bottles and cans that, according to Jens Eckermann, A&R Carton sales director for beer and beverage packaging, achieves a 20% weight reduction in materials, compared to previous designs, but produces equivalent strength.
The package is being produced at Grolsch's new brewery near Enschede, the Netherlands, and the same pack is being marketed there. The 12-pack is applied via a Maxim™ cartoner from R.A. Jones. However, the new carton was designed to permit wrapping on "either end-load or wraparound packaging equipment," says Eckermann.