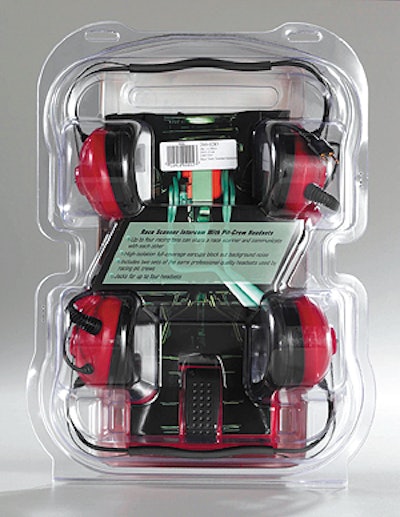 Race Scanner Intercom sets are packaged in a 16"x12"x 6" car-shaped clamshell thermoformed of 30-mil polyvinyl chloride sheet by Alloyd (DeKalb, IL) that also includes a protective insert that Alloyd molds from 20-mil PVC. Revving up the packs are graphics provided by a one-piece, die-cut 12-pt SBS card printed offset in four colors by Global Group (Dallas, TX). The sets enable users at Nascar events to listen to pit crew conversations.
"In the past, these kinds of items have been boxed, which hasn't given us a chance to play off the visuals of what the product is intended for," says Allan Gould, associate creative director of packaging for Circle R Advertising, a division of Radio Shack. "Once we saw the headphones, we felt it would be great to develop something with more shelf impact.
"By working closely with [Alloyd] and [Global], we were able to develop a unique and innovative packaging clam structure. The PVC provides a clear window to see the headphones and allows fun with the graphics," adds Gould.
The two sets of round headphones are positioned inside the "wheel wells." Another playful element is that the UPC appears as the license plate.
The packaging is done manually "assembly line style" at Radio Shack Packaging in Fort Worth, according to Gould. Selling for around $269, the headsets will appear in the chain's stores nationwide by March. —RL
Companies in this article