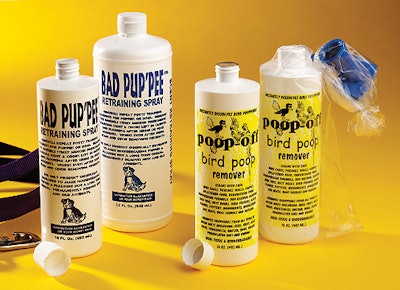 Judging by its www.poop-off.com Web site, Life's Great Products LLC of San Marcos, CA, appreciates a touch of levity. But it was no laughing matter when the maker of liquid cleaning products for pets and janitorial services realized that it was losing time and money on short-run jobs it had outsourced to a contract packager.
"We have runs that may be only 1ꯠ or 2ꯠ bottles, and we'd have to take the job to our contract packager," recalls David Lickhalter, manager of the three-person company that does business as Another Day Ltd.
"If they were doing work for other companies, they couldn't just stop and do ours, so we'd end up leaving the [job] and coming back later to pick it up, only to find out they still hadn't done it," he laments. "It got to the point where it made more sense for us to buy machinery and start doing these short runs ourselves."
Lickhalter says that longer runs, those exceeding 10ꯠ units, are still outsourced to a CP, though he prefers not to identify the company.
In July, Another Day invested in a 1kW Unifoiler Model 3000-C induction sealer from Pillar Technologies (Hartland, WI). The catalysts for buying the induction sealer were three other recently purchased machines. They include a Mark XV twist-tie unit from Plas-Ties, a division of Johnston Intl. (Santa Ana, CA); a Timesaver AFSS-852 air-operated tape dispenser from Air Fixtures (North Manchester, IN); and a semi-automatic cap tightener from Accutek Packaging Equipment (Vista, CA). All the machines were purchased after Another Day researched equipment on the Internet (see Packworld.com/go/c051).
Labor-intensive process
Another Day's CP was not only challenged by the short runs, but also by the fact that those short runs were labor-intensive. Lickhalter explains, "The customer we're shipping the product to requires that everything be 'postal-secure.' They want bottles to be induction-sealed, the caps taped down with reinforced tape, then each bottle placed inside a plastic bag and twist-tied, and placed into a corrugated shipper. That requires a lot of labor because [the CP] didn't have automated equipment to do that."
Lickhalter addressed the problem by searching for equipment that could handle those jobs in-house. "We started searching for a tape machine that would feed filament tape and cut it," he says. "We found one in Air Fixtures. Then we needed to buy a bag sealer to avoid doing that job by hand, which could lead to carpal tunnel syndrome. We found the Plas-Ties machine. It's been wonderful. Whoever invented it was a genius."
Without that equipment, Lickhalter says, "we would have never done the job in-house."
Sealing in savings
With the acquisitions of the tape dispenser and twist-tie machines, Another Day researched for an induction sealer on the Internet. At that time, the company had a job due in two weeks. Pillar had the Unifoiler in stock, and the company bought it and put it to work immediately.
A key benefit to the machine, according to Lickhalter, "is that the 3000-C sealer uses a flat heat-sealing coil that doesn't require the bottles to be in a set path to go under the coil. Some sealers have grooves that you have to run the bottles below so that they go into a track." He adds that "the price was in-line with our budget," as another major plus.
Lickhalter says the company typically runs the induction sealer about twice a week, for three or four hours. "We've been very happy with the Pillar machine."
Short runs begin when the screen-printed bottles are positioned on a turntable, then conveyed into the filler purchased a couple of years ago from Equipment Express (LaPorte, IN). Filled bottles are hand-capped with different-style closures for different products. Lickhalter says automatic capping equipment isn't economically justifiable at this time.
Capped bottles index along the conveyor to the Pillar induction sealer that adheres the cap's liner to the mouth of the bottle. "We use different bottle sizes, but the ones that we induction seal are primarily 16- and 32-ounce versions, either 24-410 or 28-400," Lickhalter notes. "The machine is easy to use and we can adjust the height [to accommodate bottle height differences], press a button to whatever power level we want, hit the start button, and off they go."
Induction-sealed bottles are conveyed to a station where an employee retorques the cap to the bottle with the Accutek machine. "It works somewhat like a power drill," explains Lickhalter, "in that you pull it down from a pulley and put it over the top of the cap to tighten it."
Afterward, the foot-operated Air Fixtures machine dispenses three 2"Wx6"L strips of tape at a time. A strip is applied to further secure the cap to the bottle. An operator places the bottle into a clear, unprinted low-density polyethylene bag. Sometimes a sprayer handle is packed separately into the bag before the Plas-Ties machine closes the bag with a twist tie.
Either 12 or 20 bagged bottles are hand-packed into a corrugated shipping case. Palletization and stretch wrapping are also completed manually. Shipments are made nationwide by truck, with 80% of Another Day's products sold to the pet market, where the liquid cleaners are meant to help pet owners clean urine stains and help retrain their cats and dogs. The products are also used by some zoos, and to clean piers. The remaining 20% of products are sold to janitorial services to clean carpeting and mattresses at hospitals, motels, and hotels. In all, the company makes 13 different products, sold in containers as small as 8-oz bottles to as large as 55-gal drums. The retail liquid cleaners typically sell at prices ranging from $5.99 to $16.99.
Asked to summarize the benefits of in-house bottling and to determine a return on investment for the $12ꯠ spent by the company for the induction sealer, tape dispenser, and twist-tie machine, Lickhalter estimates an ROI "of probably four to six months. We have a profitable business, and now we have the flexibility to do our short runs in-house.
"In the past, we were paying someone else about 41 cents per bottle when you add up the costs to fill, induction seal, tape, put the bottle into the bag, and twist-tie it. That's because much of the work was done manually at the contract packager. Now that we're doing those short runs in-house, we're saving at least 25 cents per bottle."
Companies in this article