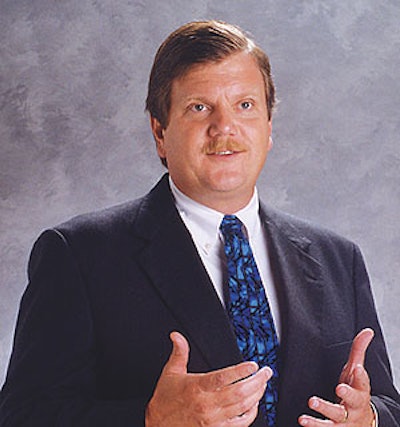 Many individuals in packaging in the United States say that direct sales and e-commerce will eventually replace the packaging distributor. In general, they don't believe that packaging distributors will have a significant role in the movement of packaging products from manufacturer to the manufacturing end user.
Dr. F. Barry Lawrence, a distribution specialist at Texas A&M University, College Station, TX, disagrees with that assessment, and talked exclusively to Packaging World about the new role he sees for distributors.
"Replacing the distributor with e-commerce has not materialized because the assumption is grounded on the fact that, if you can eliminate inventory, you can eliminate the distributor," he tells PW. "That understates the many other roles that distributors play that are equally important." Lawrence is a 3M Fellow and director of the Information Systems Consortium and serves as an assistant professor in Texas A&M's Department of Engineering Technology and Industrial Distribution. Last year, Lawrence brought his message to the annual meeting of the National Assn. of Container Distributors (Philadelphia, PA).
The contention that packaging distributors are an endangered species also downplays the significance of information management. "This process," he adds, "is much more complex than anyone has even begun to imagine. The distributor is in possession of a tremendous amount of information that it now uses through people-based systems like sales forces.
"To remove the distributor from the chain would require packaging manufacturers to develop much more complex sales organizations, which they're typically not equipped to do because of cost," Lawrence says. "But also because they don't have the distributors' capability to sell across multiple categories or markets."
However, he cautions that his optimism about packaging distributors is tempered by understanding that even distributors will fight some of the changes he feels will be necessary. "While the most valuable thing a distributor has is its customer information, what do they often do with it? Too many hide it from the packaging manufacturer! That's like waving a red flag in front of a bull."
Issue of control
One of many conundrums in predicting the future of the supply chain is that though the packaging manufacturers crave more customer information, they're often not anxious to see distributors become better at information management. Lawrence says that despite the fact that better information will make manufacturers more successful, it'll also make the distributors more powerful. Because of long-time distribution channel conflicts, manufacturers are in no hurry to see distributors become more entrenched in the chain.
He relates a story about an electrical products manufacturer that had an arrangement with its distributors to get point-of-sale information. The manufacturer took this data and was able to profile many of the customers. The manufacturer shared the sales profile data with distributors to help them anticipate product mix orders.
However, Lawrence points out that the only data the manufacturer really has is its own sales. It doesn't see its competitors' sales data, sales of like products, all the unique factors that affect a region's or customer's sales profile. Who can add all of this other information? The distributor who knows that market, according to Lawrence. "Their analysis can be many orders of magnitude better than the pure sales information," he stresses.
"Unfortunately, the question isn't, 'Is the distributor best positioned to take advantage of all this?'" he says. "The question is, 'Will they do it?' Or will they wait flat-footed on the sidelines until some other organization does it?'" Lawrence goes on to say that he believes the best-positioned companies to hurt distributors are other distributors, not other types of organizations.
Internet will hurt, too
When asked about product demonstrations and training that distributors often perform, Lawrence sees much of these functions becoming more digital. "The next generation of management people will have grown up using the Internet," he says, "so they won't need help from outside sales people as much as older people in management today." He predicts that close personal relationships—often a distributor's most valuable resource—can be expected to erode somewhat.
In addition, Lawrence points out that more manufacturers are putting more technical information on their Web sites because they feel their distributors aren't protecting their company's brand equity. This is a real threat to the distributor, but eventually the manufacturer will face a choice: Do the transaction on the Web, or use it as a lead generator for distributors.
Lawrence also predicts that packaging is just beginning to see how capable the Internet can be for conducting training. "It won't eliminate the training function entirely, but it could replace major parts of it," he suggests. However, for the foreseeable future, the training function provides some protection for the distributor.
Unmaking commodities
One of the great threats to packaging distributors is that so many of their products are perceived as commodity items. The fact that so much business is now conducted directly between manufacturers and end users has reduced the importance of some distributors. Here, too, Lawrence says there is another conundrum.
As direct sales and e-commerce replenishment grow larger, Lawrence predicts that manufacturers are going to ask whether they need distributors any longer. "What's more likely to happen is that manufacturers will move to a more limited distribution model, where they work with fewer distributors, but more loyal ones," he says.
The consolidation movement within packaging will fight this, he points out, and he foresees a gulf between those packaging manufacturers trying to control distributors and larger packaging distributors. He predicts a limited distribution model is likely to grow, but the commodity nature of packaging will make this difficult for manufacturers to maintain.
More standardization in packaging equipment, another trend Lawrence is watching, will mean that more machine components will begin to look like commodities. "Even though these companies continue to engineer new features into their products, they may become perceived as commodities," he says.
"The only way a company can be assured its products will be sold is if their products are wrapped in services. What these manufacturers need to do is add services that are important to their customers, and that's usually done by distributors or integrators. So this can be a big opportunity for distributors, if they use it right."
How to be compensated
In Lawrence's scenario of distributors becoming important information managers for manufacturers, he sees the distributors needing to invest in the kinds of technology that will help compile more information, analyze it, and present it to the manufacturers in ways that will help them.
The trick will be to engineer systems so manufacturers will pay for this information, according to Lawrence. "After all, manufacturers often hire consultants to go out to survey the very customers that the distributors serve," he says. "And we all know the weaknesses of surveys conducted by outsiders. So who could do a better job of market analysis that would make a manufacturer more successful, the distributor or a consultant?"
However, he recognizes that relationships between a manufacturer and distributor make paying for the analysis difficult. But, he points out there are all kinds of currency in this world. "When a manufacturer realizes that information technology from distributors is making their operations more efficient, then perhaps the relationship can be altered to reflect the value, say a limited exclusive area or rebates. It's time to get creative."
Lawrence concludes by emphasizing the change in what distributors of the future will provide. "They knew how to be compensated for being an inventory manager. Now distributors need to figure out compensation for becoming an information manager."
Editor's note: Dr. Lawrence can be contacted at
Texas A&M by phone (979/845-1463) or by e-mail (Lawrence@entc.tamu.edu).