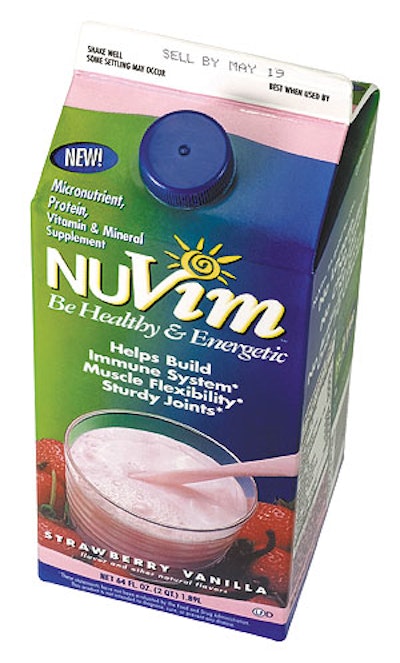 About the last thing a beverage manufacturer wants is for its drink cartons to bulge outward on store shelves. And though that was only an occasional problem for NuVim, Inc., it was vexing enough to force a packaging change last year for the company's 64-oz gable-top cartons of NuVim.
The Paramus, NJ-based maker of nutraceuticals introduced NuVim energy drink in June 2000, in gable-top cartons. The trouble was that the company began to notice that carton sides tended to bulge outward. This was "due to leeching of product into the raw edges of the board," explains Paul Young, NuVim's vice president of operations. "The wicking caused the board to become softer and lose some of its rigidity."
Adds Richard Kundrat, chairman and chief executive officer: "The package looked like it was swelling, but actually the board structure was breaking down and causing the packaging to bow."
Both NuVim representatives agree that the previous carton structure was unsatisfactory. "We had some complaints and product returns. It wasn't so much the returns [that eventually prompted packaging changes], but the cartons just did not project the quality image we wanted," Kundrat states.
It didn't take long for the privately held firm to find a suitable carton replacement. The CEO sought out the services of International Paper (Memphis, TN), with whom he had worked at a previous job with Unilever.
Last year, NuVim began using IP's Tru-Taste® Gold advanced juice carton. The 24-pt carton uses the supplier's patented Barrier-Pak® technology that incorporates multiple high-performance polymers. The supplier would not reveal specific structural details.
"IP's carton is a better and stronger package," Kundrat says. "Every aspect of it is better, including its thickness, coating, and overall quality control." More specifically, Young says IP provides a better skived carton. Skiving is a process done by IP during board converting in which the carton manufacturer folds inward, or under, the exposed or "raw edges" along the carton's seam or fifth panel. That nearly eliminates the problem of wicking that can lead to carton bulging. He also says the Tru-Taste Gold carton provides better barrier properties than did the previous gable-top carton.
IP uses six-color litho printing to deliver an appealing front-panel decoration that illustrates product pouring into a glass surrounded by fruit. The product flavor is printed at the bottom of the image.
Filling is outsourced
NuVim is packed by Clover Farms Dairy (Redding, PA). "By filling NuVim, it improves its equipment utilization," Kundrat contends. "It's packed the product since it was launched, and we provide [the company] with incremental volume."
Clover Farms uses an Evergreen Packaging Equipment (Cedar Rapids, IA) machine to form, fill, and seal the cartons at speeds to 80/min, according to Young. A hole is die-cut into the board during converting to accept the injection-molded, high-density polyethylene closure from Portola Packaging (San Jose, CA). A special device on the Evergreen machine positions the closure into the die-cut hole. The closure is heat-sealed to the board.
Young explains that Clover uses automatic equipment to pack eight cartons into an outer shipping case that's labeled and coded. Cases are palletized and shipped by truck to public warehouses, then on to supermarkets in nine northeastern states. Four flavors sell for $3.69 per carton.
Outsourcing the filling function benefits NuVim by "eliminating the need for us to go to 'bricks and mortar' to establish our own production lines and [to hire] the people to operate the necessary equipment," Kundrat adds.
Cost is justified
NuVim's previous cartons were opened and closed by consumers with the traditional gable-top opening. Kundrat says the previous supplier "could have added the new closure, but at a much higher cost."
Asked to compare carton costs, Young says "the board material itself is comparable; but when you add the costs of the cap and its application to the carton, the total cost is about four cents per carton more now.
"We justify the increase," he notes, "in many ways. The cap is a huge convenience for consumers, who may have had trouble opening the old-style gable-top. The cap is much easier to pour from as well. The carton now looks better on the shelf because there's no bulging."
Shelf life is also enhanced, Young says. "With the previous carton, we could only apply so much heat to the gable-top seal because the consumer had to be able to open it. Now, we can weld it because it doesn't have to be opened. That [difference in sealing] reduces oxygen transmission and extends shelf life. I can't cite a definitive difference in shelf length, but I'd estimate it's in the area of a 10-percent increase." Shelf life now is 63 days.
NuVim's high acidity plays a significant role in that shelf life. Its 3.9 pH level "helps to retard the potential growth of yeast and mold that could negatively affect product color and shelf life," says Young. Barrier-Pak is said to prevent oxygen and light from entering carton walls. Its multiple-polymer structure includes a lining of low-density polyethylene, which IP says helps to preserve taste and retain flavor.
Marketing advantages
Besides its role in nearly eliminating carton bulging and delivering substantial shelf life, NuVim's packaging helps market the beverages.
"Packaging is a key element because it helps us place our product in the juice section of supermarkets," explains Kundrat. "NuVim tastes like and has the characteristics of juice," he notes. The packaging is also reminiscent of juice cartons, right down to the reclosable spout that allows easy dispensing. NuVim carton graphics and the spout are similar to refrigerated juices that many consumers have seen and purchased for years.
Merchandising NuVim with juices helps consumers better understand the hard-to-define product. Printed carton copy refers to the drink as a micronutrient, protein, vitamin, and mineral supplement, with LactoActin and LactoMune serving as key ingredients. Beneath the product name, promotional copy says "be healthy and energetic," with additional print saying NuVim helps build [the] immune system, muscle flexibility, and sturdy joints. Copy also points out that "these statements have not been evaluated by the Food and Drug Administration. This product is not intended to diagnose, cure, or prevent any disease."
NuVim is delighted that, while its cartons no longer bulge, its product sales do. In fact, the company reports a more than four fold increase, from $614ꯠ in 2000 to $2.9 million in sales last year, representing a rather healthy increase.
Companies in this article