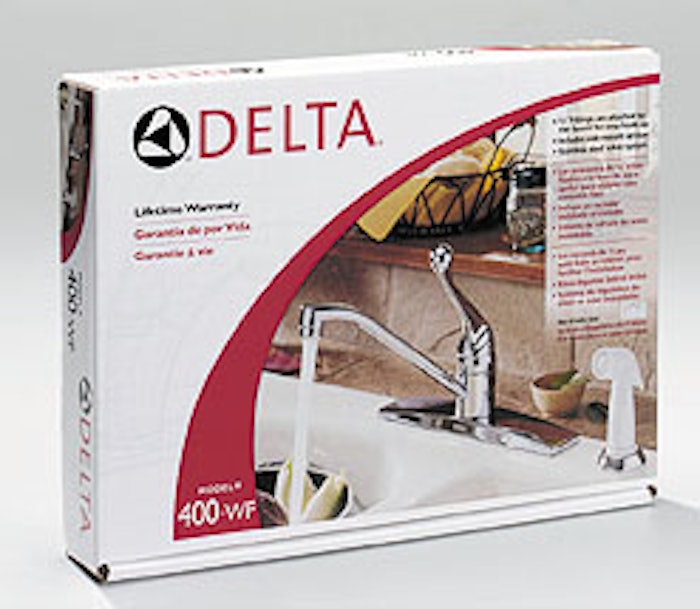 By the end of May, Indianapolis-based Delta Faucet Co. expects new packaging to be available throughout its nationwide retail and trade channels for virtually its entire line of more than 3ꯠ residential and commercial faucets. The packaging includes improvements in both graphics and structure that are based on input from consumers, retailers, and trade professionals.
"We changed our logo, developed new advertising, and created a new 'Beautifully Engineered' tagline for the products—so that overall corporate identity change drove a packaging change at Delta," explains Kristen Burkman, the company's consumer marketing manager.
"In the past we used corrugated inserts, padded mailers, paper bags, and bubble cushioning to wrap individual products that we then placed into one of 20 or 25 primary boxes," notes packaging engineer Chad Courtade. "We didn't have a systematic approach, and packaging was somewhat of an afterthought," he admits.
The packaging approach was understandable given that many of these faucets were sold at wholesale outlets where contractors and plumbers would purchase them for installation. "But with the increase in retail sales to consumers at outlets such as Home Depot and Lowe's," Courtade says, "we realized our packaging fell behind graphically and structurally when compared to some of our competitors."
Seeking input
In 2000, the division of Masco Corp. "put together a major effort to reposition Delta's brand and image in the marketplace," recalls Burkman. She explains that consumers were tested in Louisville, KY, and Bethesda, MD. "We wanted to learn what consumers were looking for, how they felt about our brand, and how our products and packaging compared to competitive brands.
"We didn't receive any major complaints about our packaging, but we learned that we weren't giving consumers enough information. So we decided to revamp our graphics so that consumers would have the information they needed to make the purchase."
The limited product information was offset-printed directly onto mottled white corrugated, typically in two colors, with spot labels, according to Courtade. "We changed the printing method completely," he says, "and that's one of the major improvements we've made. We're having linerboard preprinted with four-color process printing, and we're able to go up to seven colors plus varnish. For our highest-volume models, we're using four-color product shots, and that allows us to convey a really strong message on our [top selling] boxes."
Printing of the 40# paper linerboard and box converting steps are done by supplier Inland Paperboard and Packaging (Indianapolis, IN). All text, except for the Delta logo, is printed in English, Spanish, and French to accommodate exports to Canada, Mexico, South America, and Asia.
Although Delta has enhanced its box graphics, the box styles remain mostly unchanged. Most are 175#-test, B-flute corrugated. For kitchen faucets, a rectangular flat box with locking tabs is used. It most closely resembles a one-piece, tuck-folding box with a hinged cover. "It's like a pizza box that we call a one-side rollover box," says Courtade. For bathroom faucets, he says that the box resembles a shoebox.
"Whatever the faucet type, it's totally enclosed in a corrugated box," says Burkman. She says that, unlike some competitive packaging where product is visible, "our consumer research showed that there was a perception that a 'view pack' denoted inexpensive as opposed to high quality.
"So while there are advantages to showing the product through the packaging, our research showed it also created negatives in the minds of consumers we tested, so we decided to go with the corrugated box printed with the pictures," she notes.
Structural changes
In a second round of testing with consumers, Delta's upgraded packaging drew rave reviews. Besides consumers, Delta sought the expertise of retailers and trade buyers. "We solicited feedback from our major retailers and kept them in the loop from the start of the project. Retailers and plumbing contractors told us that they wanted better organization of the products inside the box," recalls Burkman.
Customers wanted to help keep parts from damage, even though Delta didn't have any major damage complaints, she adds. "They also wanted to be able to better identify products and make sure there weren't wrong or missing parts."
To address those important issues, Burkman says, "we made huge strides by putting in a thermoformed tray that nicely organizes all the products and gives the inside of the package a beautiful presentation as well." Rather than having parts wrapped in different types of dunnage material where they couldn't always be seen, the parts are now placed manually into cavities formed into the trays supplied by Tek Packaging Group (Huntley, IL).
Courtade says the trays are made of high-impact polystyrene, along with "a 10-percent rubber modifier in the HIPS" that helps prevent tray cracking and breaking due to the heavy product. The polystyrene gives good abrasion properties and makes the material easier to form. Courtade says Tek Packaging supplies about 20 different tray styles having different cavity configurations, with material thickness ranging between 25 mils and 50 mils.
Tek Packaging and Inland ship packaging materials to Delta Faucet plants in Greensburg, IN; Jackson, TN; and Chickasha, OK. At the plants, workers manually assemble faucet parts into the trays and load one tray into its appropriate box that they set up. Then they close the box and run it through an automated bander that applies and heat seals two plastic bands across each box. The bands help to prevent pilferage.
Banded boxes are placed three or six per master shipping case. "We used to pack 12 into a master case," notes Courtade. "But we decided to go with smaller cases to make them easier to handle for customer distribution-center operators and retailer and wholesaler workers. A smaller case also helps us because it lets our customers stock a greater variety of our products rather than filling up all their storage space with larger case quantities."
In shipping, the plants don't send full pallet quantities of one specific model. Instead, they add boxes of whatever models are necessary to fill specific orders. Orders are stretch-wrapped for shipment either direct to customers or to the distribution centers of our customers. There's no Delta Faucet distribution center to which these are shipped.
Cost analysis
By incorporating input from consumers, as well as retail and trade customers, Delta Faucet actually increased its packaging costs. For example, to accommodate the thermoformed tray, the company had to use larger, more expensive primary boxes. The printing upgrades also added costs.
On the other hand, "we've been able to reduce labor costs. Before, when we only used mailers, bags, and boxes, workers had to set up all those things," Courtade notes. "With the thermoformed tray, there's a place for everything to go. There's also a better sense of protection because there's less bumping around of products in the box throughout distribution. The new packaging also withstands more rigorous testing standards. These improvements are going to reduce overall goods returned."
As this issue went to press, Courtade said Delta was "finalizing numbers" concerning the cost analysis of the packaging changes. Part of the equation will have to incorporate potential sales increases. The new packaging was introduced in January. Products retail at prices ranging from $50 to $200. "It's too early to judge sales because shipments of the new faucet packaging are going out in four phases," says Burkman. "But we are conservatively projecting three-percent additional sales in the 12 months after the rollout, which would definitely help justify our investment."
"It's obvious by looking at the packaging that we put a lot of effort into protecting the product," Courtade concludes. "All of this supports our 'Beautifully Engineered' tagline."
Companies in this article