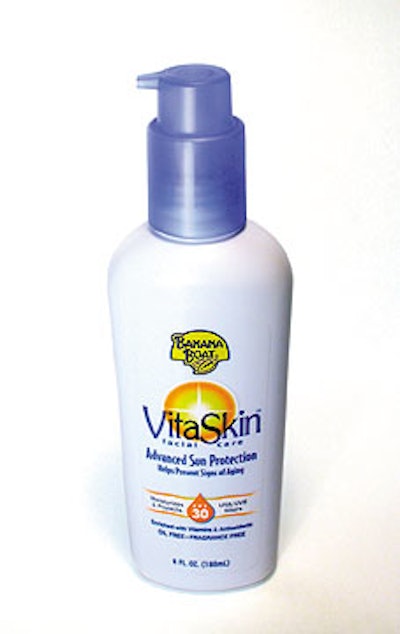 The VitaSkin package is highlighted by a 24/410 pump closure that receives a frosted look in-mold.
The injection-molded polypropylene closure comes from SeaquistPerfect Dispensing (Cary, IL). Seaquist refers to it as its EuroFlow frosted contemporary lotion pump. While most closures require some sort of spray-on frosted finish, the EuroFlow's molded-in matte finish gives the package a rich, smooth look. The actuator/closure is shipped in the locked position and allows consumers to relock as necessary, making it convenient for travel. The closure tops a high-density polyethylene bottle from Custom Bottle (Naugatuck, CT) that is decorated with a clear pressure-sensitive label.
"We've received good feedback on the package from our customers," says Candace Gartland, packaging specialist for the sun care division of Playtex Products.
Filled by a contract packager in Canada, the VitaSkin product line includes five different SKUs, two of which are topped with the Seaquist EuroFlow. VitaSkin is available in 5.7- and 12-oz sizes nationally in chain drug and grocery stores. —ALR
Companies in this article