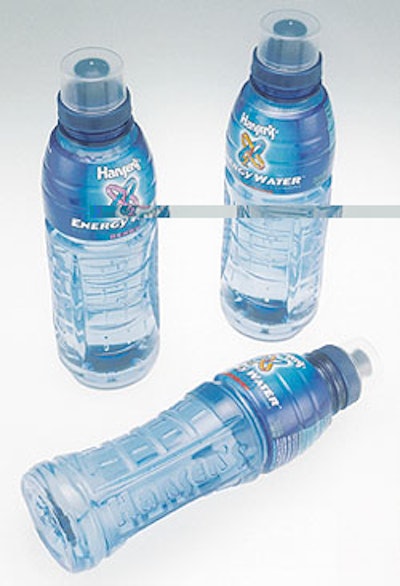 Schmalbach injection/stretch blow-molds the 44-g ErGo-Grip™. The bottle is nearly the same as the Fitness Water bottle introduced in April by Clearly Canadian and Reebok (see Packaging World, May '01, p. 2 or packworld.com/go/reebok).
The most notable difference is that Corona, CA-based Hansen's uses a blue colorant with the clear Hansen's logo debossed into opposite sides of the bottle in two vertical "pillars." This customization is possible through the use of two mold inserts, which means that Hansen doesn't have to invest in new molds.
By using a modifying mold, Hansen's costs are "less than a third of the cost of a complete new mold set," estimates Tim Welch, Hansen's senior vice president.
A color-coded heat-shrink label matches one of the five varieties of flavored water. Topping the bottle is a 43-mm push/pull sports cap from Creative Packaging (Buffalo Grove, IL). Bottles are contract-filled at approximately 183°F. The 24-oz Energy Water line is rolling out nationally, retailing for $1.49. Additional details are available at packworld.com/go/ergogrip.(JB)
Companies in this article