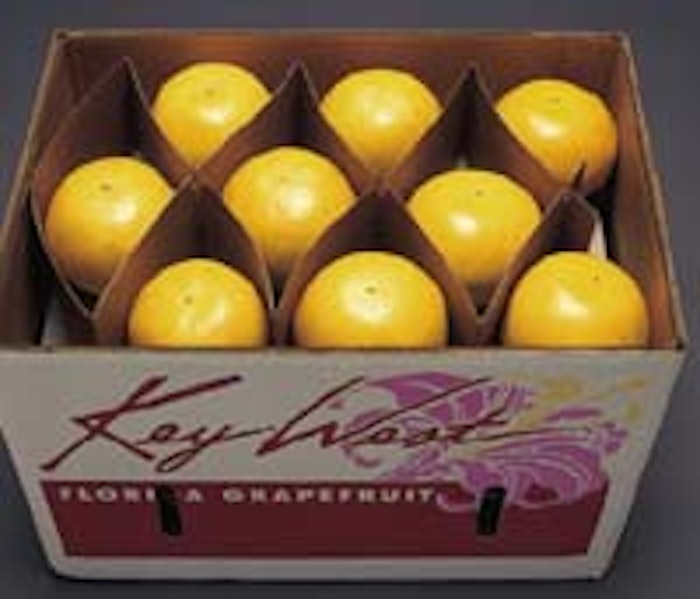 Spending at least 30 days trapped in a refrigerated shipping container en route to Japan is no Carnival® Fun Cruise—even for a piece of grapefruit. That's a lesson Oryal Trading Co. of Vero Beach, FL, learned the hard way recently, when it discovered that while its fruit didn't require a shuffleboard court for its trip across the sea, it did need a breath of fresh air.
Oryal purchases red and white grapefruit for export to clients in Japan. During transit, the fruit is layered in corrugated shippers. In each layer, individual fruits are separated from each other by protective paperboard formed in a honeycomb pattern.
Customer complaints about damaged fruit led Oryal to investigate its shipping methods, says president Tim Martin. What he and his colleagues discovered was that the honeycomb divider they were using was too constrictive. Without enough air to circulate around individual pieces of fruit, the grapefruit couldn't be cooled effectively. This led to spoiled fruit and customer complaints.
Armed with this analysis, Martin investigated alternative methods of protecting Oryal's grapefruit during shipment. In March 1999, RTS Packaging (Norcross, GA) introduced Oryal to its CitruSaver™ System, and the company never looked back.
Go with the flow
Unlike the honeycomb partition used previously by Oryal, which completely encased the grapefruit, the CitruSaver System uses a paperboard partition with a more open design and fewer points of contact between fruit and partition. The biggest difference in the two systems, says Martin, is that CitruSaver allows air to circulate around the fruit, speeding up cooling time and reducing the and pitting of fruit caused by lack of air circulation.
"What we're trying to do is deliver a product to our Japanese clients that looks like a fresh piece of grapefruit after it's been in transit for 30 days," Martin explains. "If they receive decaying fruit, they have to throw it away. So anything we can do on our side to ensure better arrival is a very big plus."
To that extent, Oryal decided to try the CitruSaver for a while, hoping its less-constricting fiber dividers, along with its specially designed and ventilated fiber pads, would provide better circulation. "What we found was that better circulation means better condition upon arrival," Martin says. "The complaints [our clients] had were due to air not circulating well enough through the box we were using." Nearly all of those complaints ended immediately, says Martin, when Oryal began using the CitruSaver System. In fact, he adds, complaints of product arriving damaged dropped from 20% of the fruit to just 5%.
In addition to improving air-flow, the partition design also provides an orderly column stack of fruit within the corrugated shipper. This adds greatly to vertical stacking strength, another important factor in protecting the fruit from damage.
Top-to-bottom compression strength is further enhanced by the 24-pt thickness of the CitruSaver partition. The honeycomb divider used previously by Oryal was not as strong.
The final key component in the CitruSaver System is the fiber pad separating each layer of fruit from the next. Strategically placed holes in the pad allow for air to flow vertically through the case. The pad's clipped corners—customized for Oryal's application—assist that process even further. Because the CitruSaver allows ventilation across all dimensions of the product, the system is said to reduce the time it takes to cool the fruit by 40% compared to comparable packaging options. The sooner the refrigerated air can reduce the temperature of the fruit to a certain level, the less likely the grapefruit is to decay.
Ease of use
The bulk of Oryal's grapefruit is packed in corrugated shippers containing 27 pieces of fruit arranged in three layers of nine. The other sizes Oryal uses are 23- and 32-count shippers.
At one of the local packing houses contracted by Oryal, fruit is washed and waxed, then graded in preparation for packing. The grapefruit are conveyed to a manual packing station, where they're placed into the shippers and then conveyed to another worker who manually loads 63 shippers onto each pallet. Once shippers are palletized, paperboard corner boards are applied, along with netting that holds the pallet load together. Finally, the fruit heads to the refrigerated sea containers.
According to Martin, the new system is both easier and safer for packers to use. "When workers packed the old honeycomb partition, they'd have to slip the fruit down into each one of the pockets," he explains. "People's fingers would get lots of paper cuts in their cuticles. Their fingers would be wrapped up in tape for protection. They hated it. With the CitruSaver product, it's a stiffer piece of paperboard. Workers are now able to place the fruit in the box, then unfold the CitruSaver divider and slide it into place around the fruit. Packers are able to pack much faster, and their hands are better protected. It's rare to find anyone who has a problem using the CitruSaver," he notes.x
The result for Oryal is an easier method of packing that has reduced complaints of damaged fruit, as well as on-the-job injuries. After testing the product successfully for the remaining few months of the '99 packing season, the company has used the CitruSaver exclusively this year. When asked about cost of the current package compared to the one used previously, Martin says the cost savings is minimal.x
"It was a very dramatic demonstration," says Martin. "Better airflow did in fact improve grapefruit quality at its time of arrival—something we were trying to deliver."
Companies in this article