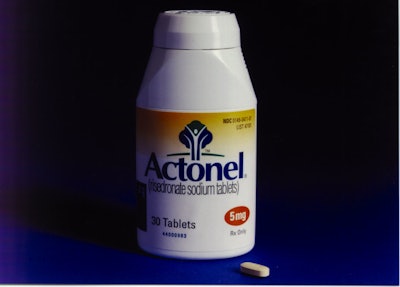 In what may be a first since birth-control pills were supplied to pharmacies prefilled into compacts, Procter & Gamble Pharmaceuticals, Mason, OH, is offering its Actonel® prescription medication in 30-count filled and sealed bottles.
"We felt that the containers normally used for prescription drugs were far more child-resistant than they were senior-friendly," says Kurt Trombley, a senior packaging engineer at P&G. In '94, P&G introduced a version of Scope mouthwash and later its Aleve analgesic tablet in containers that are topped with P&G's own Safety Squease™ closure that was made by West Pharmaceutical Services (Lionville, PA). The polypropylene closure is a squeeze and twist cap that reseals with an audible click (see Packaging World, Feb. '95, p. 72).
"We thought there was great potential to take a technology that we'd already developed and move it into the pharmaceuticals area," says Trombley. Much like before its introduction in '94, the closure was the subject of extensive focus group testing. "People preferred it," he says. Testing was also conducted with both physicians and with pharmacists.
The drug lends itself to standardized packaging. Normally prescribed in a single tablet/day amount, the 30-count bottles hold a month's worth of Actonel, a drug currently prescribed only for post-menopausal osteoporosis.
The introduction was nearly coincidental with the release of a National Academy of Science study that described errors made in pharmacies that threatened patients' health. "We think this helps out pharmacists, since they don't have to count or repackage the tablets," Trombley says. "And we do use a freshness seal–an induction-sealed foil membrane–to assure them of the count. Pharmacists told us they would be obligated to recount, if we didn't supply the inner seal. One panel of the bottle is left open for the pharmacist to affix the patient care label.
Other P&G prescription drugs will be considered for the prepackaging concept.
In a hurry? Request more info via Web-based reader service by clicking on company name.
Or you can jump right to their Web site.
Companies in this article