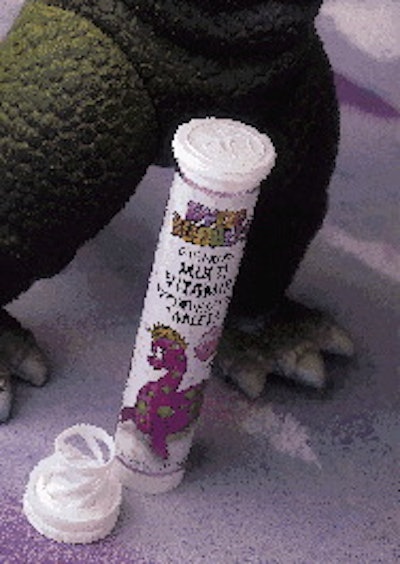 While popular for a wide variety of health food and nutrition supplement products in other parts of the globe, effervescent tablets would be all but invisible in the U.S. if not for Alka Seltzer.
Nature's Solutions Inc. is out to change that with a line of effervescent products it will launch next month. To achieve its goals, the Aptos, CA, firm is counting on a moisture-adsorbing desiccant that comes in a format relatively new to the U.S.
Effervescent tablets carry an active ingredient that is released when the tablet is dissolved in water. The allure of this delivery system is two-fold. First, some people don't like to or are physically unable to swallow a pill; if the pill's contents can be incorporated in a dissolvable tablet, swallowing is no more difficult than quaffing a glass of water. Second, active ingredients dissolved in water enter the bloodstream almost immediately.
NSI will market its effervescent products under two labels: Vita Fizz(TM) and Effer Power(TM). Each label comprises the same five items: children's vitamin, multi-vitamin, calcium, vitamin C and Hangover Relief(TM). While the Vita Fizz label is for distribution to U.S. health food stores, Effer Power(TM) is aimed at mass merchandisers. Hangover Relief is packaged in a 10-count and the other four products in 20-count tubes.
Why sell the same product under two different labels?
"Health food stores like having a label that 'the others' don't," says NSI president Julie Jones.
Supplied by United Desiccants (Belen, NM), the injection-mold-ed polypropylene tubes that hold the tablets are straightforward enough. So is the TE breakaway band on the injection-molded PP snap-fit cap, also supplied by United Desiccants. What makes the cap unusual is that it incorporates a silica gel adsorbent to trap moisture that makes its way inside the tube after the cap is removed by the consumer and snapped back on. Effervescent tablets are extremely susceptible to moisture, so in this application the desiccant-packing closure plays a key role.
"I couldn't do without it," says Jones. She admits to not being entirely sure how long the in-cap desiccant will continue to adsorb moisture. "It's a twenty-tablet package, which is a twenty-day supply for most of these products," says Jones. "We know the desiccant will operate effectively for that long. If someone were to open the package and then close it and put the package on a shelf for six months, we don't honestly know how it would perform." Unopened, she adds, "We're con-fident of a one-year shelf life."
Jones relies on an unnamed contract packager to formulate and package the effervescent tablets. Another contract vendor decorates the opaque white tubes with pressure-sensitive labels supplied by Richmark Label (Seattle, WA). The labels are metallized paper printed flexo in five to seven colors plus varnish.
Scheduled to be launched in March in select markets across the country, NSI's effervescent tablets will sell for anywhere from $6.95 to $8.95.
Companies in this article