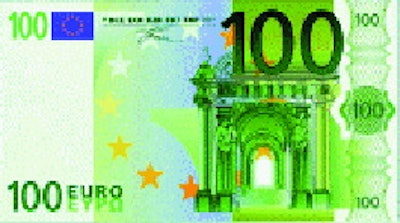 B. A medieval musical notation.
C. The child of ECU.
Y2K is:
A. A Japanese zipper manufacturer.
B. A cure for baldness.
C. A moment in time likely to arrive while you're asleep.
Tick...tick...tick...Time's up.
The New Year arrived some days ago and with it, a market of changes, challenges and questions for packaging professionals. Technologies and movements that caught our attention in 1998 will shape the packaging world (and Packaging World) in 1999.
A quick, far-from-complete summary of technology and market developments and issues from last year that will shape this year's package manufacturing and marketing strategies would have to include:
* Barrier-enriched plastic containers capable of preserving peak product quality over extended periods of time;
* Situation-responsive packaging systems;
* "New age" performance-enhanced, application-specific materials;
* Product processing's contributions in supporting and extending packaging performance;
* Mergers, alliances and consolidations of packaging suppliers and users;
* Questions about the market viability of paper, metal and glass containers and how they are filled, sealed and labeled.
This year, as in the past, packager attention mostly will be focused on the profitable application of advancing packaging technologies and developments like those bulleted above. Unfortunately, that means two forces that are already changing the manufacturing and marketing aspects of packaging are receiving relatively little attention.
The first of the forces-one that's already affecting the purchasing and sale of packaging in the heart of the world's second-largest packaging market-is the euro. For some, but not all, countries in the European Union, the euro is the realization of a financial concept called the European Currency Unit or ECU. On Jan. 4 of this year, 11 European countries began the three-stage process of adopting the euro as their official single currency.
To start the transition, the 11 countries of the "euro zone" (including Germany and Italy, which account for most of the packaging machinery imported into the United States) began doing business in euros this month. In Germany, Italy and the nine other countries of the euro zone (Austria, Belgium, Finland, France, Ireland, Luxembourg, the Netherlands, Portugal and Spain), the exchange rates between the euro and their national currencies have been permanently fixed. Euro bills (see photo above) and coins will be introduced in the coming months. And by June 30, 2002, the old national currencies will become collectors' items.
How significantly the emergence of the euro affects your packaging and marketing operations will depend on the extent of the business you and your packaging competitors do in the euro zone. "During the transition," says Robert Burdett, director of international services at McGladrey & Pullen, certified public accountants and consultants based in Chicago, "a number of important steps and requirements affecting all financial transactions and record keeping will be introduced."
In some cases, says Burdett, the impact of the euro's emergence "will be profound, forcing companies to undertake important changes in their business practices, financial management and information systems."
In Burdett's view, the switch to the euro requires management attention in the following areas: finance and treasury; accounting systems; information technology; pricing strategies; sales and marketing; exchange rate hedging; purchasing; and human resources.
Burdett offers an eight-question quiz to help you "determine if you should be paying close attention to the euro." He figures you should be paying close attention if you answer "yes" to questions like "Do you receive payment for goods or services from customers in euro<>zone countries?" and "Are your 'in-country' customers or vendors planning to switch to the euro soon?"
Burdett's quiz-and his short, clear report and analysis on the whats, hows and whys of the euro-are available on the World Wide Web at http://www.mcgladrey.com/library.nsf/graphic/3rd98.pdf/$file/3rd98.pdf. If you'd prefer a fax copy of the report, phone or fax your request to PW.
Year 2000 and computers
Y2K, of course, is computerese for the year 2000. For packaging professionals, Y2K is a force that's far more widely recognized than the euro. Y2K, we are told, is bringing with it the "Millennium Bug," a computer glitch spawned 20 years ago by a programming shortcut that renders some computers incapable of distinguishing between the year 1900 and the year 2000 because they only rely on the last two digits to discern the year.
At the stroke of midnight on Dec. 31, 1999, we are warned, computers and two-digit-reading imbedded computer systems that drive much of our packaging operations will malfunction in one way or another, creating operational chaos that may take weeks or months to resolve.
From what we can observe, many U.S. manufacturers in the packaging sector have been working for more than a year to find and fix the offending code. Crown Cork & Seal (Philadelphia, PA), the world's largest supplier of packaging, has been "actively working to ensure that its information systems, engineering systems, plant equipment and facilities will continue to function correctly and support critical business processes for the year-2000."
"To this point," Crown asserts on its Internet web site, the company "has been addressing century-dating readiness with our year 2000 project. For the year 2000 Project, a centralized Project Office has been established to ensure communications and coordination between all Crown Cork & Seal operating units worldwide." If you are either a Crown Cork & Seal customer or supplier and you're wondering if Crown is succeeding in eradicating its manufacturing Millennium bug, you can phone or fax the company's Y2K office at 215/602-2625; 215/856-5455.
Crown, its competitors in the U.S. and most of its customers will, by next New Year's eve, be fairly certain that their computers won't make a crippling misreading of the time. More worrying is the apparent unreadiness of many of the computers that have become the invisible foundation of an international infrastrucuture of government and industry.
Tick...tick...tick...Some packaging professionals are already taking advantage of the euro's arrival to improve the profitability of their operations. Tick...tick...tick...Time is running out. Are your systems Y2K compliant?
Companies in this article