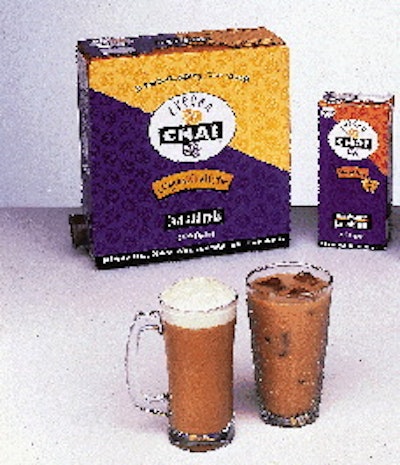 Increased productivity and ease of handling are just two of the benefits Oregon Chai has gained since it replaced multiwall corrugated bulk containers with collapsible, returnable intermediate bulk containers. The IBCs also helped this Portland, OR-based beverage marketer score higher on its environmental report card.
"They fit our mission statement," says vice president of manufacturing Tedde McMillen, "which is to use all-natural ingredients in our products and a certain amount of recyclable, environmentally friendly packaging."
Oregon Chai makes an unusual tea-based concentrated syrup that consumers mix with equal parts of milk to make a tea latte. The firm uses IBCs to ship a liquid sweetening ingredient from its Los Angeles supplier to Oregon Chai's contract processing facility in Portland. Each TNT Pallecon 275 IBC holds 275 gal and is supplied by TNT Container Logistics (Franklin Park, IL).
The IBC consists of a four-way steel pallet, an electroplated steel frame, and 5-mm thick food-grade polypropylene sidewall panels that lock together to provide rugged, tamper-evident protection of the product. The finishing touch is a food-grade liner, which, in Oregon Chai's case, is an adhesive lamination of three plies of 3.5-mil linear low-density polyethylene. The liner has an easy-to-use fill/dispense valve, a feature that makes the system user-friendly and convenient, says McMillen.
The other thing she appreciates is the way the IBCs collapse to save space.
"They collapse five-to-one for return shipping," says McMillen. "Our contract processing plant has very limited space for storing bulk containers. TNT solves that by picking up the containers when empty, returning them to their own depot for cleaning and maintenance, then delivering collapsed containers and fresh liners to our L.A. supplier when we need them. With the corrugated totes we used to use, I had to arrange to have empty totes delivered to the liquid sweetener supplier in L.A., arrange to have them picked up when filled and shipped to the contract processor in Portland, and then have the empties picked up and shipped back down to L.A. Now, I make one call to the liquid sweetener supplier. They call TNT and together the two of them take care of everything."
Oregon Chai leases the IBCs from TNT on an as-needed basis. TNT provides cleaning, maintenance and warehousing of the containers at its west coast depot.
Reusable in theory only
While it's true that the corrugated totes used in the past were reusable, McMillen says it didn't always work out that way.
"Theoretically, the corrugated containers could be reused several times," she points out. "But in practice we found corrugated was prone to bending and fraying during handling, dismantling and folding."
McMillen says the Pallecon IBCs are designed for 10 years or more of continual use. She also says the switch out of corrugated has eliminated a substantial amount of fiber packaging from the processing line at Sweetener Products, the contract processor in Los Angeles that fills the IBCs.
TNT delivers empty containers to Sweetener Products roughly every three weeks. "They usually send us fifteen empties at a time," says Sweetener Products' plant manager Tony Stubbs. "Since the IBCs collapse five-to-one, shipping fifteen of them saves money over rigid IBCs or drums. We receive the Pallecons a few days before we're scheduled to fill."
Slightly more viscous than pancake syrup, the sweetener easily fills through the 2" valve. The liquid weighs 11.5 lb/gal. A sensor on the scale automatically stops dispensing of the sweetener when the container reaches a weight of 3걄 lb. At that point, the filling valve is removed and the operator locks the container top in place.
"It takes an operator less than five minutes to do the set up, and another fifteen minutes to fill the container," says Stubbs. "In and out with no hassle."
Labor savings
Stubbs says the Pallecon totes provide a big savings in handling and filling time. "We forklift them to the filling area and put them up on a tare scale. The operator puts up three sides, inserts the liner, connects a positive displacement pump to the liner filling valve, locks in the fourth side of the container, and it's ready to fill."
Like McMillen, Stubbs greatly prefers the new IBCs over the corrugated totes that have been replaced. "Once set up, filled and topped, the corrugated totes had to be banded," says Stubbs. "We save a considerable amount of labor now that Oregon Chai switched to the Pallecons."
When the filled IBCs arrive at Oregon Chai's processing plant in Portland, the product is warmed to 80°F so that it will flow easier. Because plant space is limited, the IBCs are transferred to a spare trailer in the shipping/receiving lot and warmed via a propane blower.
The IBCs are moved by forklift to the processing line as needed. A positive displacement pump is connected to the 2" dispensing valve located behind a locking plate at the bottom of one side panel. Sweetener is metered into a batch mixer as required.
McMillen says the IBC's flexible liner makes it easy to use virtually all the product. "The light liner can be pulled forward easily near the end of dispensing to shift the remaining liquid towards the dispensing valve."
When a container is emptied, an operator removes the liner and collapses the container. It's then taken to temorary storage until 10 or 15 empties are ready for their return to TNT Logistics.
From modest beginnings in McMillen's own kitchen back in 1994, Oregon Chai has grown rapidly. McMillen now oversees processing of 30ꯠ gal of Oregon Chai roughly every three weeks, and the company's sales have grown 1괌% since 1995.
Likely this would never have come about had McMillen and her colleagues not been committed to an ongoing search for better, more efficient ways to procure, process and package Oregon Chai.
The switch to reusable IBCs is a perfect example of that commitment.
Companies in this article