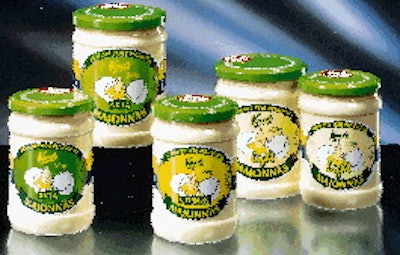 PET and mayonnaise are not only an item here in the U.S., but also in Sweden. In February, Stockholm-based manufacturer O. Kavli AB made the move to PET for its mayonnaise (see PW, June '98, page 48).
Kavli's bottles are made by PET Power (Etten-Leur, Holland), on single-stage molding equipment, using 9921 resin from Eastman Chemical (Kingsport, TN).
"We always try to invent new ways to market our products, and be [at the forefront]. The PET bottle for mayonnaise does that for us," explains Jimmy Palmqvist, Kavli's marketing manager. While Kavli is reportedly not the first company in the overall European market to use PET for mayonnaise, it is believed to be one of the first to use PET for smaller retail sizes. "We introduced salad dressings in PET about two years ago, and the results have been so good that we decided to use PET to replace glass for mayonnaise," Palmqvist says.
PET's advantages extend beyond the realm of marketing. "The bottle's light weight is easier for consumers to carry, it's easier for grocery store employees to stock, it doesn't break and it's less expensive for us to ship the products," Palmqvist notes. The latter, he claims, stems from being able to ship more product (by weight) per truckload. Kavli sells to distribution centers that in turn sell to retail grocery outlets, both in Sweden and Finland.
According to Palmqvist, no new packaging equipment was required for the switch to PET at its flvsj, Stockholm, headquarters/factory. "The PET bottles are still round, but a bit shorter. The material isn't as thick as glass, so we had to make some changes with bottle handling parts."
Kavli could use its existing filling line equipment because the PET jar is also topped with a metal twist-off cap, like its glass predecessor. To accommodate the cap, PET Power molds the bottle finish to tolerances that it believes are tighter than those of glass.
Kavli sells its regular mayonnaise in 350-g (12.35-oz) and 525-g (18.53-oz) sizes, a light version in 370-g (13.06-oz) and 550-g (19.41-oz), and a citrus flavor in the 350-g size. The largest jars weigh 39 g, with a 82-mm finish. They stand 116 mm (41/3") H. Dimensions for the mid-size version are 30 g/82 mm/33/4" H. The smallest size is 30 g/70 mm/41/3" H.
"So far, our customers are satisfied with the change to the PET bottle, and the fact that it's lighter to carry," says Palmqvist. "We have increased sales for the mayonnaise, and I think some of that is a result of changing to PET."
Companies in this article