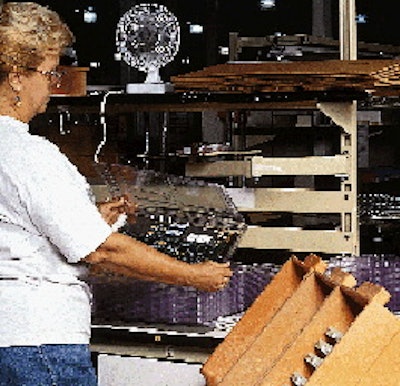 Transparent clamshell packs are old hat for the packaging of many products. Everything from hardware products to fruits and vegetables to toys have long been packed in a variety of plastic clamshell designs. That's why it seems unusual that another application-the packaging of printed circuit boards-could result in so many benefits.
Earlier this year, though, Lucent Technologies, Columbus, OH, converted to transparent clamshell packs from Universal Protective Packaging (Mechanicsburg, PA) and from Crystal Thermoplastics (Cumberland, RI). Both thermoformers use Pentastat SC660/05C clear polyvinyl chloride sheet from Klockner Pentaplast of America (Gordonsville, VA). The custom-designed static-dissipative clamshells provide Lucent with the following benefits:
* Reduces material costs by an estimated 60%,
* Cuts labor costs by 70%,
* Cuts the amount of solid waste, even without reuse,
* Minimizes the need for product handling that can cause damage, and
* "Date-coding" of each container for static efficiency is evident throughout the packaging and distribution process (see sidebar, p. 21).
Not all created equal
If only those advantages were so easy to achieve. As Lucent learned, the results they enjoyed in '97 are the culmination of the best materials, designs, quality control and vendor service.
The clamshells have replaced Lucent's former multi-material packaging. That required circuit boards to first be placed into an anti-static bag that's cushioned by custom-cut anti-static pieces of foam inside a corrugated box, says Lucent packaging engineer Ken McCrina.
McCrina's original task was to replace the three-stage packaging that had to be done in an area separate from the board production lines. At the time, the circuit boards were transferred from the production lines in anti-static tote boxes to a separate packaging area. Management wanted to streamline the packaging of the circuit boards by packaging at the end of each production line.
"There wasn't room to store three kinds of materials at the end of each line," McCrina explains. "That's why I was looking for simpler, more user-friendly technology. Clamshells can be stacked in a very space-efficient manner at the end of each line, so I requested bids for the job."
The company selected a vendor and began the conversion to clamshells. The good news: Lucent immediately began to realize the material and labor savings of this one-step package. The bad news: An inadequate part design and lack of quality control by the previous thermoformer resulted in excess damage to Lucent's products and unreliable ESD (electrostatic discharge) protection.
Helping to ensure quality
The advantages of the package style were too significant to ignore. So Lucent soon reopened the bidding, searching this time for vendors with strong track records in electronics applications. Just as important, though, was the selection of the right material.
"Our first clamshells proved that this packaging concept was sound," says Lucent packaging engineer Jim Mammano. "The design just didn't provide enough cushioning against physical damage. Nor did it meet our requirements for ESD protection, even though the sheetstock did. We discovered that these properties can be altered by improper thermoforming techniques."
Each shipment of Klckner's Pentastat is accompanied by certification of ESD properties for that batch of sheet. Further, both Crystal and Universal randomly test finished clamshells and provide their own certification to Lucent. Another indicator: Klockner received ISO 9002 certification in July, Crystal is scheduled to receive it soon, and Universal is active in the certification process.
In addition, Klockner has a technical service group to assist thermoformers in learning how to retain maximum ESD properties throughout the forming process. The material also has a five-year history of successfully meeting mil spec B81705-C and EIA-541 requirements.
"When we evaluated materials," McCrina says, "Pentastat was the only one that consistently met the specified range of ESD protection required for products coming into our plant. We checked out other materials, but the Pentastat was superior." Although a static-control polyester is also available, PVC was chosen for its self-extinguishing property, measured by a UL 94-VO rating.
Quick turnaround
Thanks in part to full computer-aided design/computer-aided manufacturing (CAD/CAM) capabilities, each of the thermoformers produced the initial six clamshell designs in just six weeks. The thermoformers also have three-dimensional vertical machining centers that quicken turnaround for design-intensive assignments like Lucent's.
"Lucent required maximum cushioning for the drop tests," says Scott Millard of Crystal. "So we machined into the design various structural elements that would enhance protection." Universal's Clay Sheffield explains: "You can add strength by designing parts with gradually radiused corners, for example, rather than sharp, 90-degree angled corners. This allows the material to flow more evenly, so it doesn't thin out at the corner." As well, certain clamshells are reinforced through ribbing.
"When we finally decided to go with two vendors, we tried to do an even split of different packages," says McCrina. "Later, as we added other products in clamshells, we had both companies bid on the new designs. Some shapes and sizes are being produced by both suppliers.
"After working with our first vendor, we consciously decided to have at least two suppliers. It gives us some competition to hold costs down, and it gives us some flexibility should a problem with supply arise. Finally, it also gave us a chance to look at two different designs." The vendors use computer-controlled forming equipment that produces parts with excellent consistency.
Both thermoformers ship the nested clamshells to packaging distributors that are located close to Lucent's plant for just-in-time delivery. Universal's part designer, George Herman, carries a laptop computer with the CAD/CAM program directly to Columbus so he can design a package on-site while measuring the product and learning the concerns of McCrina and Mammano. This can shorten leadtimes so a new product can be introduced earlier.
Some benefits are clear
Not only does Lucent use the clamshells for shipping and reshipping circuit boards to customers, it also uses them to hold circuit boards not yet completed, or work-in-progress. Since the package is clear, both Lucent workers and customers can often eliminate extra handling.
"When people can't see what's inside a package, they want to open it up," Mammano points out. "Any time the product is handled, there's the danger that the worker isn't properly grounded, and that can destroy the product. We don't yet have any statistics on damage reduction since we started to use the clamshells, but it's always desirable to minimize product handling."
McCrina adds that the clarity of the clamshell even permits scanning of bar codes through the package. "Customers have told us how convenient the clamshells are to inspect and inventory, especially since they can scan the bar codes on the products without removing the product from the package."
Finally, the rigid clamshell eliminates the chance of punctures in the former anti-static bag. The sharp soldered leads on the backs of the circuit boards can occasionally cause a puncture that virtually eliminates the bag's protection.
The new packs have been so successful that Lucent has begun to request that its other plants and suppliers use the same type of package to ship parts to Lucent. "Having our suppliers use clamshells, which we can send back to them for future shipments, means that we are charged less because the packs are reused. And it reduces the amount of solid waste being sent to landfills," McCrina says.
Companies in this article
Videos from Klöckner Pentaplast Pharma, Health & Protection and Durables