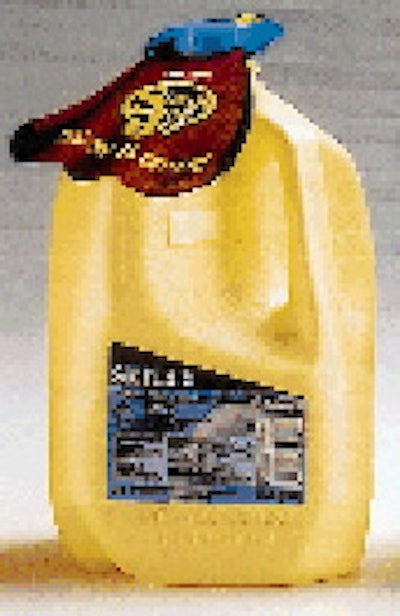 UV light oxidizes milk, stripping it of riboflavin, which is necessary in order for the body to absorb calcium, says Bill McCabe, director of marketing for the Orrville, OH, company.
"The paperboard industry has been advertising for years against plastic," McCabe says, because the bottles' translucency permits UV light to strip out riboflavin and other vitamins and minerals. "And it gives milk an off-taste," McCabe adds.
Penn State University and a number of chemical companies conducted testing to determine which color performs best under UV light, McCabe says, and yellow outperformed the other colors. The yellow jug blocked out the most light, helped the milk retain its flavor longer and appealed to consumers better than other colors, McCabe says.
In all fairness, it's worth noting that opinions on this controversial subject vary. A study conducted by the Louisiana Agricultural Research Center suggests the decrease in nutrient content and flavor only occurs after milk is exposed to UV light for longer than the amount of time it typically spends in the dairy case.
But McCabe still contends that yellow is better. "From a marketing standpoint, if we had to pick a color, yellow wouldn't be the No. 1 color," he says. "It does help it stand out on the shelf, but it is also confused with orange juice sometimes. But what it does for the product is worth it."
The 1-gal Super Jugs are blow molded, filled, capped, induction-sealed and labeled in Smith Dairy's Orrville plant. The 1/2-gal jugs are purchased from Plastipak (Plymouth, MI). The snap-on, twist-off cap is injection-molded of HDPE by Clayton Corp. (Fenton, MO). LabelTek (Wadsworth, OH) flexo-prints the 60# pressure-sensitive paper labels in six colors and applies a coating of protective polypropylene.
The neckhanger is designed to look like a cape as a play on the product's name: Super Jug, "Protector of the milk universe." The underside of the "cape" is printed with a coupon for 25¢ off the next purchase of the jug. Smith Dairy came up with the original design, and Smiley-Hanchulak (Akron, OH) executed the neckhanger's final design. Tope Printing (Millersburg, OH) offset-prints the 78# synthetic paper in four colors. After printing, Tope die-cuts the neckhanger and perforates a hole to fit over the jug's neck. The hole section in the center is manually punched out before the neckhangers are packed in boxes headed for Smith Dairy. The neckhangers are applied manually at Smith Dairy at speeds of 65 to 75/min.
A regional first
Yellow containers are almost the norm in southern states, McCabe says, but Smith Dairy claims it was the first to bring them to the Midwestern states. Initial consumer response to the jug, introduced in March, was mixed, McCabe says.
"Even though we had a lot of radio commercials and point-of-sale [displays], we had to explain it to people and have people test it," he recalls. "By talking to dairies that had done it before, we knew there would be consumer reluctance up front, and then sales would come back up. We're at the stage where it's bounced back, and consumers like [the product]. In fact, we've picked up additional distribution from a customer base that we hadn't had before."
Smith Dairy also offers the new Moovers(TM) line of milk in polyethylene terephthalate bottles (see Packaging World, Dec. '98 p. 2 or packworld.com/go/moovers) as well as milk in traditional translucent HDPE jugs. When asked about the cost of the Super Jug venture, McCabe admits the jugs are 18% to 20% more expensive to produce than translucent plastic jugs. To make up for this added cost, milk sold in the yellow jugs is priced 10¢ to 20¢ higher (about $1.99 to $2.29) than milk in unpigmented jugs.
Plus, McCabe says, Smith Dairy believes the yellow jug truly is beneficial to the consumer. "We believe in it. It's better for the product in the long run." The jugs' yellow color doesn't affect shelf life, however, which remains at milk's typical 19 to 21 days.
The Super Jug is currently available in Ohio, southern parts of Michigan and some parts of Indiana. McCabe says Smith Dairy plans to expand its distribution more in Indiana and into Kentucky. (LB)
Companies in this article