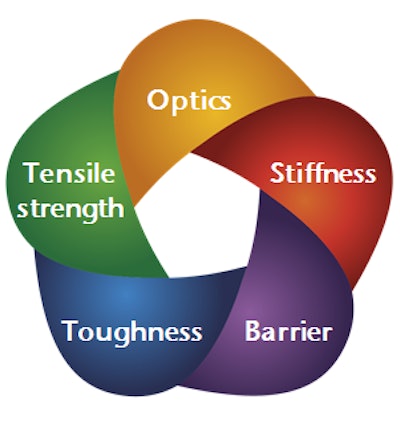 A high-performance PE film for product differentiation, sustainability, and cost advantage. ElifHyPEr is a modified and improved PE film to save resources, improve film properties, and optimise films for specific uses. ElifHyPEr offers better optical properties like higher gloss, clarity and lower haze, better mechanical and barrier properties, advancement in film performance, and reduced natural resource usage. ElifHyPEr also eliminates the need for lamination with other substrates allowing recyclability of the packaging.
ElifHyPEr, the high-performance PE film solution of Elif is at the forefront of the fast-moving consumer sector in its increasingly competitive environment, thanks to its product differentiation and financial feasibility advantages as well as its contribution to environmental friendliness and sustainability.
ElifHyPEr offers improved barrier properties, enhanced tensile strength toughness and stiffness, better shrink properties, and increased gloss and transparency. ElifHyPEr films have better gloss, clarity and haze. ElifHyPEr is stiffer, have much higher tensile strength, is much tougher, offer two times improved barrier properties and its shrink properties can be controlled over a wide range. These properties of ElifHyPEr offer product differentiation, sustainability and cost advantage for brand owners and consumers.
Targeting to achieve maximum performance with minimum resource usage, ElifHyPEr also offers high strength with its formulation to increase film in durability to the highest level, increasing the resistance to heavy loads by removing the risk of explosion / breakage of the packages. ElifHyPEr, which enhances the tensile power of films with its reinforced barrier properties, also offers brand owner marketing advantage with its clarity and brightness. ElifHyPEr can be used in combination with the desired packaging form and printing options with ease of use spreading from the food and home care sector to the pet care and hygiene sector for a wide range of uses.
ElifHyPEr's advancements can be summarized under 5 topics:
Optical properties: Increased clarity & transparency. Decreased haze. Two times improvement in haze and four times higher gloss properties.
Tensile strength: Increase in break strength. Controlled shrink levels. Nearly three times better performance in machine direction break strength. Negligible loss in transverse direction break strength.
Stiffness: Secant modulus can be increased from two to three times in both axes inclusively. Increased dead fold & twist retention properties.
Barrier properties: Up to two times better barrier properties. Increased oxygen barrier. Increased water vapor barrier.
Toughness: Increased film toughness and ability to withstand puncture and heavy loads.
ElifHyPEr can be used in various flexible packaging applications like stand-up pouches, in-mold labels, shrink sleeves, draw string tapes, cereal and cracker packaging, sealant wraps, twist wraps, tapes, frozen food packaging, barrier packaging, liners, heavy duty bags and lamination replacement. With its improved properties ElifHyPEr can be used as an alternative for BOPP or PET films enabling recyclability of the packaging, which leads to recyclable pouches and bags.
By combining the portfolio and systems developed by closely following the new materials, techniques and technologies as well as R&D studies, customers are able to provide solutions and advanced products for packaging needs. By combining innovative approach, expert team and equipment with the latest technology, Elif will continue to produce 'Packaging for Life', as it is today, by continuing to expand, by expanding its innovation activities, by respecting the environment and humanity, and by aiming to be always beyond expectations.
Companies in this article