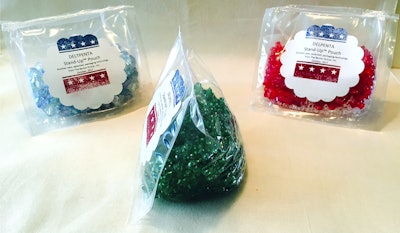 Barton Group, Inc. (BGI) renamed its new no-gusset, stand-up pouch the Delpenta Stand-Up™ Pouch to emphasize its uniqueness and minimize confusion in the marketplace.
"While there was no other stand-up pouch named Delta, as we began rolling out announcement of the new product, we became aware that there is another product in the packaging world that does use the Delta name," says company President Lew Barton. "Therefore, we have changed our product name to Delpenta Stand-Up™ Pouch. The Delpenta brand name is a unique combination of delta, which is the shape of the package viewed from the side, and penta, meaning it has a total of five sides, with no bulky gusset on the bottom."
Like the Barton Group's Squeezy Straw™ Dispensing Pouch line of liquid packaging products, the Delpenta Stand-Up™ Pouch is a patented technology available for licensing by manufacturers.
Because there is no die-cutting, manufacturing production of the Delpenta Stand-Up™ can be accomplished on very common, relatively low-cost horizontal thermo-form/fill/seal machines.
"The productivity of horizontal thermo-form/fill/seal machines can generate high volume throughput that can exceed the standard gusset pouch volume, saving even more money in the manufacturing and packaging process," Barton says.
In addition to many other market opportunities and applications, Delpenta Stand-Up™ pouch can be used for dry, free-flowing products such as beans, nuts, granola, candies (hard candies, chocolate chips, chocolate sprinkles, jelly beans, etc.), soup and gravy and sauce mixes, rice, soap crystals (bubble bath, etc.), kitty litter, marbles, toys, and more.
Delpenta Stand-Up™ can also be produced with easy-open and dispensing features such as tear notches, zippers or embedded pour spouts.
Companies in this article