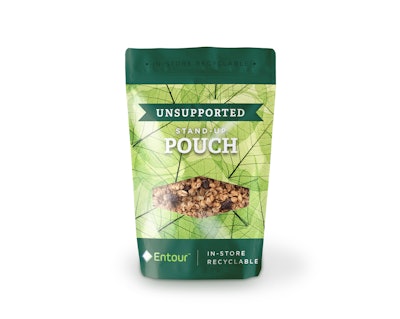 Berry Plastics launched Entour, a new line of pouch packaging solutions. The first offering in the family of products is a non-laminated stand-up pouch. This new pouch solution offers all the functionality and performance of traditional laminated pouches without the added process of lamination of dissimilar materials, which can limit recyclability and affect packaging economics.
The non-laminated pouch is suited for baking mixes, granola, snacks, confections, rice, pasta, and other baked or dry contents. The pouch is also designed to impart specific performance attributes such as stiffness, sealing, and other functionality desired in a pouch packaging solution. Multiple decoration options are also available with the new Entour pouch line.
Three distinct performance options will be available in this format: moisture barrier, moisture and oxygen barrier, and non-barrier.
"Our goal with the new Entour line of pouches was to create a pouch packaging line that meets all the required functional elements and lets the uniqueness of our customers' products stand out on the shelf," says Elizabeth Curran, market director of flexible solutions. "The new Entour line will be available in stand-up and other pouch styles, and in a range of formats."
Berry Plastics continues to offer products aimed at helping its customers as they strive towards improved product safety, freshness, and shelf appeal. Berry Plastics will be featuring the new product line at PACK EXPO in booth N-5339.
Companies in this article